HP and Dscoop honor Rod Key (Commentary by Cary Sherburne)
Friday, January 24, 2014
Press release from the issuing company
Legacy scholarship established at Arizona State University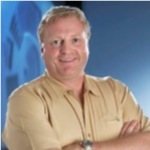 HURST, Texas - HP and Dscoop are honored to announce the creation of the Rod Key Memorial Scholarship to commemorate the significant contributions Rod made during his career in the printing industry. Rod passed away suddenly on January 20, 2014, and is survived by his wife, Patty, and his son, Austin. This new scholarship has been created in Rod's memory and will be administered by EDSF (Electronic Document Scholarship Foundation).
Jan Riecher, vice president and general manager, Americas Graphics Solutions Business, HP, noted: "In addition to what Rod brought to the industry in his various leadership positions and his contributions as an advisory board member at Dscoop, he was also passionate about education. Rod was an advisor for Arizona State University's (ASU) graphic information technology program, which offers students a 'creative, technological and managerial understanding of graphic communication technology in areas such as web, print, photography and multimedia.' As such, we felt that a scholarship in his name at ASU was the most meaningful way to remember him."
Brenda Kai, EDSF executive director added that, "We are proud to administer this scholarship in honor of one of the industry's talented leaders. Rod's legacy will truly live on in the next generation through this scholarship." The Rod Key Memorial Scholarship will be awarded in July 2014 to an outstanding full-time ASU student committed to pursuing a career in the document management and graphic communications marketplace.
Eligibility
To be eligible for the Rod Key Memorial scholarship, students must have the following:
An interest in pursuing a career within the Document Management and Graphic Communication industry
Minimum 3.0 cumulative GPA on a 4.0 scale
Full-time undergraduate student attending Arizona State University in the Graphic Information Technology Program
International students may apply
Criteria
Scholarships are based on a combination of the following: scholastic achievement, application essays, participation in school activities, community service, honors and organizational affiliations, education objectives and academic and professional recommendations.
Donate to the Rod Key Memorial Scholarship
To make a tax deductible donation to the Rod Key Memorial Scholarship fund, please go to www.edsf.org/rodkey . To learn more about this scholarship or to apply, visit www.edsf.org or contact Brenda Kai, EDSF's Executive Director, at 817-849-1145 or via e-mail at brenda.kai @edsf.org.
---
Commentary by Cary Sherburne
It was with great shock and sadness that we heard about Rod's untimely passing. Rod was a larger-than-life figure in our industry, an innovator and a true thought leader. I always enjoyed interviewing him; he inevitably had great things to say, including advice for his peers. And he gave so generously of his time, both in terms of his Dscoop volunteer activity, where he was a founding member, and in the educational arena. I know how excited he was about the Shutterfly acquisition of his company and the level of energy and excitement he was bringing to the integration of the two companies. He will be sorely missed by the industry, by Dscoop, and of course, by his friends and family.

I was also pleased to hear about HP, Dscoop and EDSf's decision to sponsor a scholarship at ASU in his name. He would have loved that.

RIP, dear friend.

If you knew or worked with Rod, please take time to share your thoughts and memories about him on his Facebook page.
To post a comment Log In or Become a Member, doing so is simple and free