Warren Board uses International Paper's Arktika for timely presentation.
Tuesday, January 21, 2014
Press release from the issuing company
Warren Board Sales Ltd., the UK's leading independent cartonboard and graphical board stockist, has used International Paper's high-quality, fully coated, folding boxboard grade, Arktika, to produce a stunning gift presentation box and information leaflet.
The presentation box and leaflet formed part of an exclusive Arktika watch gift set used as a promotional gift for customers, and is being used to promote the Arktika product range throughout the UK.
The promotion contained a digital silicone watch, which was inserted into a high-quality luxury presentation box with an inner tray, using the Arktika 350gsm grade. The aim of the process was to demonstrate the ability to communicate the messaging of sophisticated brands and luxury goods with the right packaging, as well as the ability to 'up-sell' products with the assistance of appealing, high impact packaging.
The presentation booklet was produced using Arktika 200gsm, with the whole process being produced using a Komori 528 five colour B2 printing press using conventional litho print. In addition the print process used a special mix black ink with matt sealer, together with a spot gloss litho varnish and Silver foil block.
The outcome of the finished product was the production of an exquisite packaging piece, with an eye-catching foil blocked lid. The results achieved by using Arktika were of a superb print quality, which also utilised great gluing characteristics, providing robust protection for the watch.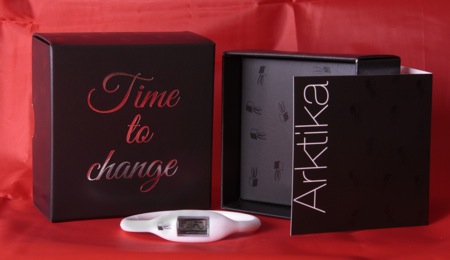 Arktika is a high quality fully coated folding boxboard grade, with a coated white back (GC1), and is aimed primarily at the luxury cosmetics, pharmaceutical, greeting cards and higher quality packaging and graphical applications. It is produced at International Paper's Polish mill in Kwidzyn, and is suitable for all types of printing, varnish & film lamination applications.
Commenting on the production of the presentation box and booklet, and the successful use of Arktika to demonstrate its high-quality luxury packaging characteristics, Warren Board Managing Director, Kieran Ferguson stated, "We're delighted but not surprised by the result achieved using Arktika for this promotion. The combination of an excellent whiteness, smooth surface and inherent strength characteristics couldn't fail to deliver a fantastic finished piece. Both carton converters and commercial/graphical printers can now clearly see the high end results achievable on this top quality grade."
The Arktika range forms part of the extended distribution agreement between International Paper and Warren Board Sales, which was announced last year.
Other product ranges stocked by Warren Board Sales as part of the agreement with International Paper include brands such as Everest (SBS), Carolina® (SBS), and Alaska (GC2).
With a 37 year trading history and operating from 100,000 square foot premises in Glenfield, Leicestershire, Warren Board Sales employs a team of around 30 staff with a combined industry experience of over 300 years across its team.
To post a comment Log In or Become a Member, doing so is simple and free