CPI Card Group Seeks To Expand Market and Diversify with Investment in Second KBA Press
Thursday, January 16, 2014
Press release from the issuing company
New eight-color press purpose-built for plastic printing will provide speed, efficiency, and quality
KBA North America announces that CPI Card Group, a global leader in financial, commercial and identification card production and related services, is investing in a new KBA Rapida 105 41-inch eight-color press---its second from KBA in a one year span. The new eight-color press joins a one-year-old KBA Rapida 105 41-inch seven-color UV-equipped sheetfed press with tower coater and plastics package, which was installed in May 2012 at CPI's Roseville, Minnesota facility. The new KBA Rapida 105 41-inch eight-color press will be delivered in March 2014.
"Earlier this year, management at CPI Card Group began to reassess our press capacity," says Paul Boge, general manager of U.S. prepaid debit market for CPI Card Group. "After consulting with KBA, the decision was made to purchase a second press from KBA to match the extraordinary capabilities and production of our first seven-color press. Equipped with the same features, we believe this second press will provide us with 30% additional capacity, quicker makeready, and higher throughput. We've added an eighth unit on this press for two reasons: to produce our secure cards in one pass and provide flexibility to our customers who require more colors."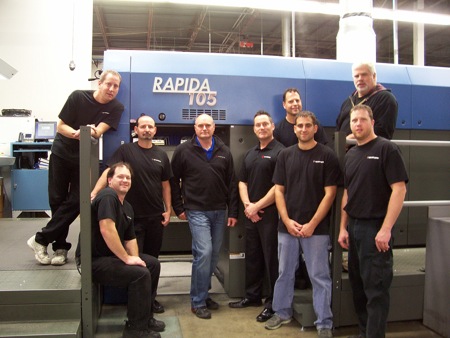 "This capital investment will provide CPI Card Group with a competitive edge in its market place for the foreseeable future," says Steve Korn, KBA director of national and key accounts. "We applaud the management team at CPI for taking the initiative to invest in a second KBA press with this 'step-change technology'. We value our partnership with CPI and believe that this new press will yield significant benefits to increase its market share."
CPI Card Group's second new tailor-made KBA Rapida 105 press is purposely-built for plastics printing. Plastic printing is a KBA expertise and this unique press provides CPI with a technological edge for high volume plastics printing. A full arsenal of KBA automation modules---similar to its first KBA press--will be included, such as the LogoTronic prepress interface, fully-automatic plate changing, tower coater, DensiTronic Professional closed loop densitometry and spectrophotometry, and AutoRegister via CCD video camera. The new press is also equipped with the KBA VariDry system with four interdeck UV lamps moveable throughout all eight printing units providing maximum flexibility. In addition, at the end of the press are three UV lamps that can also be moved throughout all eight printing units providing maximum flexibility and IR thermal air all tailor-made to provide for instantaneous curing of plastics at high speeds.
"Having two presses equipped with the plastics package will be key to our continued growth," explains Boge. Both KBA Rapida 105 presses will be equipped with numerous press components geared to the reliable transport of plastics and multi-layer substrates. These features include special antistatic systems for plastics at both the feeder and delivery, sheet travel sensors in each printing unit, board sheet guides, and double sheet detectors. By having these important features, says Boge, CPI will be able to continue its high quality production of cards and specialty packaging on a variety of substrates including foil, plastics, and 30 mil PVC.
"These sister presses will also provide us with the flexibility to move our scheduling around in the best interests of our customers," says Boge. "At the same time, our consumable purchases will remain the same and we'll be able to inventory less than if we purchased a different press. All of these considerations impacted our decision."
In addition to offering plastic printing, CPI will be heavily marketing its color management expertise to its customers—a key selling point, says Boge. CPI's plastic card customers require color consistency run-to-run on all jobs. With a color management certificate in hand and being G7 compliant this spring, Boge feels the company will win even more plastic and packaging jobs for well-known brands. The company has also set its sights on growing its market share and diversifying into new markets in 2014 with its new press.
"The excitement in our facility, especially the pressroom, upon learning about this new press order is nothing short of sheer delight," says Boge. "Employee morale is at an all-time high. When executives at your company are making decisions to invest in new multi-million dollar equipment, it's a good sign. We're looking forward to an exciting 2014, especially in the spring with the delivery of our new KBA press."
CPI, a global leader in financial, commercial and identification card production and related services, offers a single source for cards and other form factors, from financial and gift to EMV chip and mobile, and personalization and fulfillment services. CPI offers the largest secure and commercial production network in North America and is the leading commercial provider in the UK. CPI's production sites include: Denver, Colorado; Fort Wayne, Indiana; Las Vegas, Nevada; Minneapolis, Minnesota; Colchester, England; Liverpool, England; and Toronto, Canada. CPIs' plants in Colorado, Nevada, Indiana, Canada and Liverpool are ISO 9001 certified.
To post a comment Log In or Become a Member, doing so is simple and free