EAGLE SYSTEMS Acquires New and Substantially Larger Headquarters Building in New Jersey
Wednesday, January 08, 2014
Press release from the issuing company
Ocean, New Jersey – Eagle Systems, Inc., a U.S. based developer and manufacturer of foil enhancement equipment, today announced they have completed the acquisition of an 18,000 square-foot, two-story building in Ocean, New Jersey. Located at South 1310 Roller Road, the new facility is four times larger than their previous operations, located just two blocks away. Eagle completed the acquisition on December 20th and is completely moved into their new manufacturing, R&D, customer support, marketing, and operations complex. For more information about Eagle Systems products, go to
www.thefoilexperts.com
.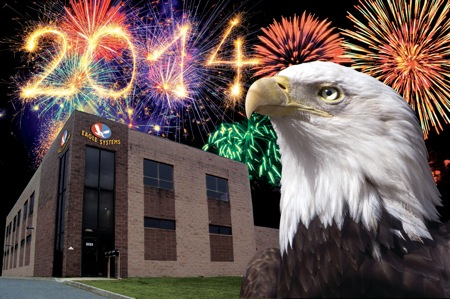 "The new location will allow us to further expand our engineering staff and enhance our manufacturing capabilities by as much as 500%," notes Eagle President Mike King. "The growth of our business necessitates that we now own our facility, enabling us to alter the building to fit our very specialized production needs.

"Our new digs will also house an expanded demo and test labs for new customers with unique substrate requirements," he adds. "We will be able to stock equipment, supplies, and replacement parts for even more responsive support of our growing customer base. It will also house what we are calling our 'PLAN (B) site', which is imperative to users with just one cold-foil press configuration. Thus on those rare down times, we'll be able to get their systems up and running faster with increased precision. We've built a reputation on customer service and now our new home offers us an opportunity to better serve our users."

Eagle's new facility will also house their expanded R&D lab. With the goal to set increasingly new standards for the cold foil process, the company aims to develop and release new automated solutions earlier. King noted, "We now have the room to spread our wings and build a highly efficient cold foiler with superior features and the capability to run nearly continuously, from roll to roll, without stressing the operators or the foil. We're very excited about the impact our new facility promises, especially concerning the substantial room it affords us for accelerated product development.
To post a comment Log In or Become a Member, doing so is simple and free