CDP raises funds for Lymphoma Association
Wednesday, January 08, 2014
Press release from the issuing company
Liverpool-based CDP Print Management has been congratulated after the company raised £8,076.90 during 2013 for the Lymphoma Association.
The print management services provider raised the funds through a variety of charitable events, and held a cheque presentation ceremony with Liverpool FC and England legend, John Barnes.
CDP Chairman Paul Scanlon handed over the cheque, together with CDP Stock Products Manager, Graham Duncan, who is also particularly active in CDP charitable fund-raising events, along with Liverpool FC legend John Barnes at the company's offices.
The funds will go to the charity and help those who are suffering from lymphoma cancer.
In thanking CDP for their fantastic fund-raising efforts over the year, Stefan Antill, Fundraising Administrator at the Lymphoma Association, said, "Generosity like this is something we can only hope for and the difference you have all made at CDP is something you should all be very proud of."
He added, "To give you an idea, there are around 70,000 people affected by lymphoma in the UK. Your fundraising could help 1,347 newly diagnosed patients speak to our helpline team, giving them the support they need to feel less anxious and confused and more reassured about the future. Thank you for helping families living with lymphoma."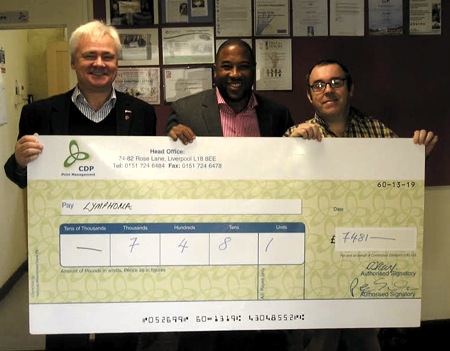 Commenting on the success of the company's magnificent fund-raising efforts over the year, CDP Print Management Chairman Paul Scanlon stated, "This is a very worthy cause particularly close to our hearts. We are glad to have helped in any way we can, and hope our contribution goes some way to helping ease the suffering of others."
As a result of its efforts, CDP was presented with a Thank You certificate by the Lymphoma Association.
CDP has become one of the largest independent and longest established UK companies providing bespoke and effective print management services since 1974.
CDP delivers print management services to a wide variety of clients and industries, with a strong experience and track record particularly in the sectors of; Social Housing, Financial Services, Home Shopping, Retail, Health Care, Education, Direct Marketing, Payroll and Security.
To find out more about the Lymphoma Association visit: www.lymphomas.org.uk
To post a comment Log In or Become a Member, doing so is simple and free