CMC launches CARTONWRAP
Monday, October 14, 2013
Press release from the issuing company
CMC Srl, a leading manufacturer of Inserting, Paper and Film Wrapping systems, officially launched their latest innovation during an Open House at their factory in Citta di Castello, Italy. Attended by over 150 customers from 50 countries worldwide the new Cartonwrap System was unwrapped.
Capable of producing variable sized cartons dynamically from a roll ofcorrugated cardboard, the new system is aimed at the growing E?commerce and digital publishing fulfilment industry.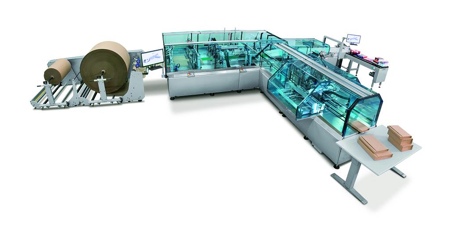 Company President Guiseppe Ponti along with his Son's Francesco Ponti (CEO) and Lorenzo Ponti (Technical Director) unveiled the machine to the expectant audience. They were not disappointed, as the machine worked perfectly wrapping and labelling various sized products in a secure Carton for shipment. The system was recently named 'Winner of the PPMA 2013 Award for Most Innovative Packaging and Processing Machine'
Throughout the day various presenters explained the benefits of the machine which is aimed to save costs through automation of a manual process. The Cartonwrap System uses proven wrapping technology to create a carton from a roll of corrugated material around the products to be packaged, eliminating the need to stock cartons of various sizes, reducing or eliminating the need for filler materials and optimizing carton size to the products being packaged.
Guest speakers from PPMA, companies InPost and Soluciones Poligraficas championed the innovation and potential benefits that it will offer to their respective businesses.
For further information on how Cartonwrap can address your business needs, send contact information to info@cmcmachinery.com. You can also arrange a livedemonstration at the factory through November.
To post a comment Log In or Become a Member, doing so is simple and free