FSEA Creates Marketing Kit to Bolster Foil, Embossing and Specialty Effects Awareness
Friday, September 20, 2013
Press release from the issuing company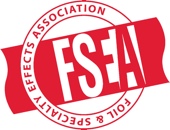 The Foil & Specialty Effects Association (FSEA), Topeka, KS, has created a Marketing Kit for its members to use in promoting the possible uses of foil stamping, embossing, diecutting and other specialty decorating techniques to their customers. The kit was developed to supplement FSEA members' current sample kits with educational information on decorative techniques and specific embellished samples.
Working with the library of case studies and research reports found in the "Members Only" section of the FSEA website (www.fsea.com), the Foil & Specialty Effects Association has created a printed and foil stamped Marketing Kit for use by FSEA members. The kit includes six separate pieces highlighting specific case studies on the effectiveness of foil stamping/embossing, as well as articles on studies proving the effectiveness of high-visibility enhancements.
In addition, the Marketing Kit has a one-page synopsis of FSEA's study on the recyclability and repulpability of foil-decorated paper/board. A foil stamped and embossed golf ball sample kit also is part of the full Marketing Kit.
"Providing our members with detailed reports and studies on the effectiveness of foil and other specialty effects can help drive further usage of the processes," stated FSEA Executive Director Jeff Peterson. "The new Marketing Kit is a perfect supplement for our members' sample presentations."
For more information, call 785.271.5816 or visit www.fsea.com.
To post a comment Log In or Become a Member, doing so is simple and free