Global Wrap Cup Master Crowned at FESPA 2013
Monday, July 22, 2013
Press release from the issuing company
Piotr Ci?ski from Poland has been crowned the Global Wrap Cup Masters champion at FESPA 2013 in London to win the title of Global Wrap Cup Champion.
The Wrap Cup Masters started with a qualifying round on day one at FESPA 2013, which saw three skilled contestants get the chance to compete in the grand final which culminated on Saturday 29 June 2013.
The Wrap Cup Masters competition revved into action at FESPA 2010 in Munich and has since travelled across the world to regional and digital FESPA shows picking up finalists from FESPA Americas 2011, FESPA Mexico 2011 and 2012, FESPA Digital 2011, Digital 2012 and FESPA Brasil 2013.
A total of 16 elite wrap cup artists took part in the final heat in London battling it out to be champion and to take home €9,500 worth of prizes.
Piotr Ci?ski, Owner, Pentagraf comments: "Winning the title of World Champion in the Wrap Cup Masters has made my dreams come true. It was a pleasure and honour to compete arm to arm with the best installers from around the world. I would like to thank the competitors, judges, sponsors and everyone else that was involved in making the event happen.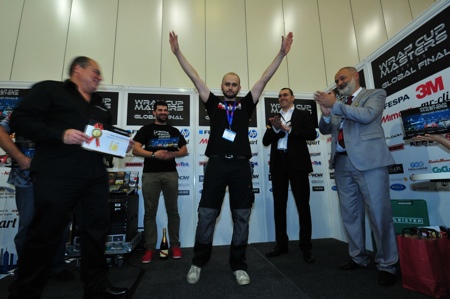 "To all the people that are considering vehicle wrapping I would like to say one thing. Just do it!"
Also taking place on the Wrap Cup stand at FESPA 2013 on days two and three was the Cup of Nations, where teams of two from across the globe battled it out to become the best team! 'Holland l' made up of Rob Buursen, Jabe Reclame from the Netherlands and the overall Wrap Cup Champion Piotr Cinski, Pentagraf from Poland took home the prize of best Cup of Nations team as well as prizes to the value of €1,500.
Duncan MacOwan, Head of Events and New Media, FESPA comments: "The Wrap Cup Masters is always an exciting and fast paced competition and this year has been no exception. With the addition of the Cup of Nations we've watched some of the world's best vehicle wrapping superstars' battle it out providing a crowd magnet.
"Bringing together the winners of the regional FESPA shows, makes the grand finale a truly international event representing our global print community. All competitors were inspirational and the standard has been exceptional, well done to Piotr Cinski and all the finalists involved."
To post a comment Log In or Become a Member, doing so is simple and free