The book focuses on helping printers build profitable online businesses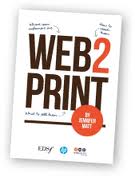 HURST, Texas U.S.A - The Electronic Document Scholarship Foundation (EDSF) is pleased to announce the Chinese translation of Web2Print written by Jennifer Matt, President of Web2Print Experts, Inc. This "how-to" book suggests a common language for discussing the various components of web- to-print so printers can first define their online strategy and then choose the enabling web technology that best supports their strategy.
The author, Jennifer Matt, is one of the industry's leading experts in web-to-print strategy and large scale implementations and integrations. She also serves on the Board of Directors for EDSF and is donating all proceeds from this book to the scholarship program. HP, which is also represented on the EDSF Board, provided the translation for the book and printed and distributed it at China Print 2013. The book can be downloaded at www.edsf.org with a minimal donation.
A Spanish translation of the book will be available soon. Companies also have the opportunity to brand and distribute copies of Web2Print to their customers and at tradeshows and events.
To learn more about EDSF and how to get your electronic copy of Web2Print, please contact EDSF Executive Director Brenda Kai at 817-849-1145 or via e-mail at brenda.kai@edsf.org.