Allied Pressroom Products Launches WIde Format Graphics Application Surface Prep Product
Wednesday, July 10, 2013
Press release from the issuing company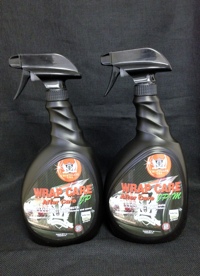 HOLLYWOOD, FLORIDA – CroftgateUSA, the automotive & vinyl film care division of Allied Pressroom Products, is pleased to announce the launch of a comprehensive surface preparation and vinyl wrap maintenance series of products. In collaboration with industry pioneer and global expert instructor/ installer Justin Pate, CroftgateUSA's -Wrap Care JP Series is the complete, non- hazardous solution for preparing various surfaces prior to applying vinyl films in conjunction with our surface specific, vinyl after care maintenance solutions.
Allied Pressroom Product Vice President of Sales, Marc Rios, says "CroftgateUSA is fortunate to work in conjunction with leading vinyl film manufactures that recognized our superiority in waterless surface care technologies. Our simple Spray on- Wipe on – Wipe off waterless technology lead to the request from our partners to develop a vinyl surface treatment solution that would provide their installers and consumers a simple, complete, non-hazardous solution for preserving the original appearance and avoid affecting the overall integrity of all vinyl film installations. The combining of our laboratory technicians along with the extensive tests conducted by industry expert Justin Pate lead us to the creation of a dynamic vinyl film installation system."
CroftgateUSA will be available across the country from various graphic arts dealerships, vinyl film installers and highlighted at various graphic arts, sign and screen print trade shows around the world. See the entire CroftgateUSA -Wrap Care Range in action at the largest specialty automotive products show in Las Vegas, November 5-8th. View full demonstrations of CroftgateUSA- Wrap Care After Care JP, which is ideal for maintaining full print, gloss, metallic and chrome vinyl films along with CroftgateUSA – Wrap Care After Care JP-M, specifically formulated for matte vinyl surface cleaning and preservation without altering the dull appearance preference.
To post a comment Log In or Become a Member, doing so is simple and free