Successful retrofit at Dresdner Verlagshaus Druck with KBA's PrintHouseService
Monday, July 08, 2013
Press release from the issuing company
PrintHouseService (PHS) in Würzburg, a member of the KBA group, handled an extensive overhaul and thorough maintenance on a ten-unit Geoman press within a tight schedule at Dresdner Verlagshaus Druck (DVD). PHS successfully won the bid for the complete package and beat one other vendor who also tendered.
In close cooperation with Dresdner Verlagshaus Druck PHS developed innovative solutions for implementing a comprehensive retrofit package fast and cost-effectively, and without interrupting press operation. The press overhaul has firmed up the Geoman press' pneumatics and mechanics in some areas for the next ten years and ensures availability and a high print quality. As part of the project PHS technicians replaced the pneumatics in the printing towers. In addition, all components in the units were thoroughly cleaned, inspected, adjusted and replaced if necessary. The final print test met the quality criteria defined.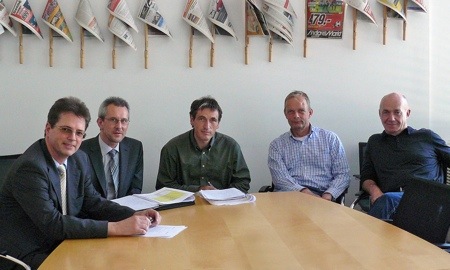 A successful retrofit: (l-r) Harald Klein, head of business unit system service at PHS; Timo Valentin, project manager from PHS' office in Plauen; Ralf Oberthür, managing director at DVD; Dr Gerd Papenfuß, technical director at DVD and Andreas Otto, production manager at DVD are all delighted with the fast and professional overhaul of a ten-unit Geoman press at Dresdner Verlagshaus Druck
PHS project manager Timo Valentin says, "Within a short time we were able to implement a challenging project successfully working hand-in-hand with the team from DVD". "The measures taken have enhanced our production security for the years ahead. They meet our high standards of quality and lay the foundations for further optimisations in the future," confirms Dr Gerd Papenfuß, technical director at DDV.
Dresdner Verlagshaus Druck newspaper house based in Dresden belongs to DD+V media group, a 60% subsidiary of Gruner+Jahr. DD+V publishes the leading daily titles in the Dresden area with the Sächsische Zeitung and Morgenpost Sachsen.
The DD+V media group is active in the whole of Saxony with further publishing activities, operating the region's largest news portal, publishing frees, magazines and SZ edition books.
To post a comment Log In or Become a Member, doing so is simple and free