Colter & Peterson delivers on new paper cutter and service capability for Data-Mail Inc.
Tuesday, June 25, 2013
Press release from the issuing company
Paterson, NJ – Data-Mail, Inc., one of the leading direct mail printers in the U.S., knows all about the importance of providing reliable service to its blue chip brand customers. That's one reason why one of the largest employers in the Hartford, Connecticut area mailed more than 1.5 billion pieces of direct mail in 2012 on behalf of their customers, including some well-known financial services, retail, insurance and healthcare companies, among others.
So when it came time for them to add another paper cutter to their finishing department, service and reliability figured in their decision to once again call on Colter & Peterson, the largest independent distributor of paper cutters and paper handling equipment in North America. Earlier this month, Data-Mail had a new Saber® X15, 45-inch heavy duty paper cutter installed and in operation the same day.
Built with durability and reliability in mind, the Saber X15 offers a new Microcut system with 15-inch touch screen, as well as a new hydraulic system and new cut optimization. As T.J. Smith, Director of Print Services explains, Colter & Peterson's quick and efficient service and training methods are mindful of what makes Data-Mail so successful.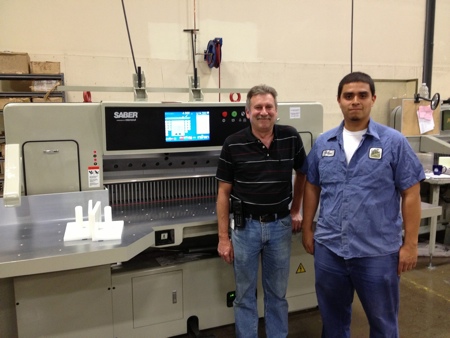 "We manufacture direct mail and commercial printing 24/7, so it was really encouraging that the C&P service team wanted us to use the cutter the same night after the first day of training," said Smith, who has worked at Data-Mail for eight years. "They came back the next day, listened to the feedback our employees gave them and finished training our four-man team."
In retrospect, this came as no surprise to Smith. C&P has serviced Data-Mail's two other cutters for the last 15 years, including a larger POLAR that C&P recently upgraded with a Microcut system, and a 45-inch Prism.
"The service people Bruce Peterson sends us are top notch. They know the technology of the machines, and they take their time to thoroughly explain how the equipment works and answer our questions," remarked Smith. "We print everything from 50-lb. offset to 20 mil plastic, and with the amount of work we do, we need to have that reassurance in our equipment."
The Saber line is manufactured to ISO-9001 standards with cutting-edge electronics. With over 20,000 Microcut installations worldwide, these factors played a part in Smith's decision process.
"I was debating whether or not to upgrade one of our Prism cutters before deciding on the Saber," summed up Smith. "I talked to one of C&P's service technicians when he was out here and he suggested I look at the Saber knife. I asked for a list of people who own a similar size Saber, and when I called a few people they all gave it high marks."
To post a comment Log In or Become a Member, doing so is simple and free