nyloflex® Gold A from Flint Group Flexographic Products: the coating plate for a wide range of finishing options
Monday, June 17, 2013
Press release from the issuing company
Thomas Leuschner, Flint Group Flexographic Products
Gloss and matt effects, brilliant sparkle or shimmers, tactile surface structures, scented print designs - the range of print finishes using low-viscosity coating systems in sheetfed offset printing opens up a multitude of possibilities. To use these effects creatively and cost-effectively, the printer needs:
a flexo coating unit (doctor blade and anilox roll)
low-viscosity coating systems (colourless or pigmented)
the coating plate as a transfer medium
Flexo coating units are coating units with anilox rolls and doctor blade systems, which the offset printer uses during the printing process. The varnish is applied to the anilox roll using a doctor blade. The anilox roll determines the varnish uptake and has a specific pick-up volume measured in ccm/m2. If more or less varnish is required, an anilox roll with a suitable pick-up volume should be used. This application method makes it possible to reproduce consistent coatings with excellent contour definition as well as additional creative effects using water- and UV-based coating systems, both in-line and off-line. Technical developments in these coating units over the last few years have made a significant contribution to improvements in coating quality.
Low-viscosity coating systems are available for nearly every application: as a water-based varnish, as gloss and matt varnish and also for use in UV printing. Pigmented metallic or pearlescent varnishes can be used to produce high-quality printing with special visual effects. Rub and smell varnishes containing microscopic scent capsules are now available in many different fragrances. The scent is long-lasting and it is likely to increase the sales appeal. These coating systems are also able to meet technical requirements, such as sealing of printed materials or water or grease repellence.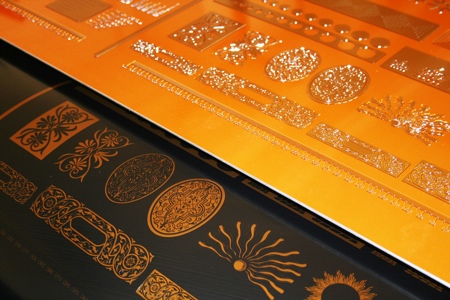 The nyloflex® Gold A 116 coating plate as a transfer medium is particularly important to these processes, making it possible beside solids to render low to high resolution line and halftone designs. At the same time, it offers high dimensional stability for perfect register work. The minimal increase in line width during the coating process enables a high print-coating contrast. It exhibits good chemical resistance to the coating systems and good varnish transfer for high gloss-matt contrasts and brilliant metallic effects. Another advantage is the reliability of reproduction when printing repeat jobs and in plate making.
Many types of coating plates from a wide range of manufacturers are available on the market. They differ in terms of plate thickness, material and the process used to make the plate. As the lowest-priced product is usually not the most cost-effective solution, the option that appears most attractive may not provide the coating quality required or may have a negative impact on the cost-effectiveness of the coating facility.
To keep set-up times in the flexo coating facility to an economically acceptable level, the coating plate must be compatible with the operating processes in a press with offset plates. The nyloflex® Gold A 116 plates from Flint Group Flexographic Products meet this requirement profile. The single-layer plate consists of a light-sensitive photopolymer layer applied to a 300 µm thick aluminum base. It can be used with water-based dispersion varnishes and flexographic printing inks as well as UV varnishes and UV flexographic inks. A special feature is high-resolution reproduction of half tones with water-based metallic pigment and pearlescent inks.
Available in a conventional as well as a digital version, the nyloflex® Gold A 116 plates can be processed to print-ready relief plates (chlichés) by using photochemical processes. Nowadays – like all digital flexographic printing plates – an IR laser is used to image the digital version of the coating plate, while a film negative is used for the conventional printing plate. Digital imaging gives the highest possible accuracy and reproducibility, from simple solid designs to high-resolution line and halftone designs (48 L/cm, 2%). The 0.30 mm aluminum base creates perfect conditions for high register accuracy and optimum set-up times in the flexographic coating unit.
One single plate type, the nyloflex® Gold A 116, can meet all the needs of printers who must choose between the different types of coating plates available on the market and the many finishing options in the flexographic coating unit. Therefore, this versatile coating plate for in-line and off-line print finishing supports the standardisation process for flexographic coating units in sheetfed offset printing.
To post a comment Log In or Become a Member, doing so is simple and free