One of the largest trade printers in the US opens third location
Commerce, CA - Trade printer Zoo Printing officially opened its newest full production facility -- 50,000 square feet in West Deptford, New Jersey June 3. The facility is now producing 4-Color Offset, 4-Color Digital, Large Format and 1&2 Color products. Will Call starts July 15 followed shortly by Local Delivery. Zoo Printing now prints coast to coast and can ship your orders to arrive almost anywhere in the continental U.S. in 1-2 days using standard ground shipping.
Prior to beginning production, Zoo hosted a grand opening celebration that brought over 600 members of the print industry closer together and provided education about how to drive the future of the print industry. Zoo's current and future clients met with leading print industry vendors and government officials including Congressman Robert Andrews, Mayor Raymond Chintall, Fire Marshall John Austin and Chief of Police Craig Mangano. In addition to networking and sharing ideas, everyone enjoyed a full tour of the world-class facility, lunch and some great giveaways.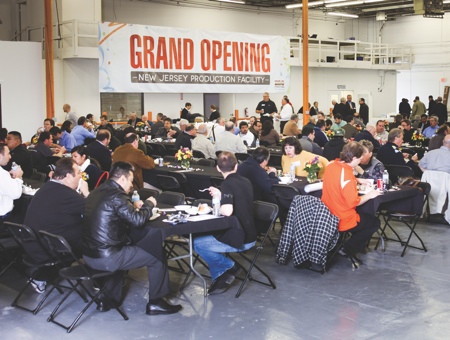 "Bringing this group together demonstrates Zoo Printing's goals of sharing knowledge and supporting local businesses and the community," said Dan Doron, President of Zoo Printing. Zoo's new facility supports approximately 20,000 businesses including printers and print brokers across 14 states.
Zoo continues to reinvest in the company with plans to expand to Texas and Florida next.