IADD·FSEA Odyssey 'Plugs In' to Record Attendance
Tuesday, June 04, 2013
Press release from the issuing company
Every two years, the IADD·FSEA Odyssey brings together the industry's most innovative and progressive companies under one roof for an educational experience like none other. Held May 1-3 in Nashville, TN, the three-day event set an all-time attendee record, offering a comprehensive program designed to educate and serve many segments of the converting industry, from foil stamping and specialty effects to diecutting, diemaking, folding/gluing and more.
The Odyssey's one-of-a-kind, fully operational Techshop™ once again provided attendees with a unique learning format that offered value beyond the average trade show experience. "While our primary focus is on quality education - and we were thrilled to see several programs at standing room only - we were especially pleased with the large number of machines and products sold," stated IADD CEO, Cindy Crouse. "The success of Odyssey seems to indicate a genuine uptick in our industry. It is gratifying to hear all of the positive comments from both attendees and exhibitors."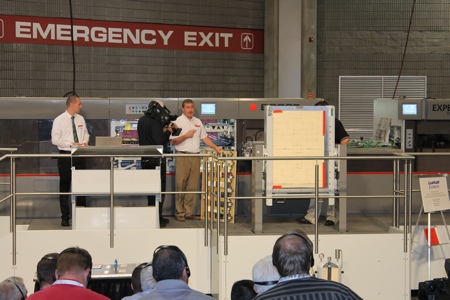 The unique Techshop format sets the IADD-FSEA Odyssey apart from any other type of conference or show
Filled with more equipment than at any other Odyssey in the past, the 2013 Techshop buzzed with excitement and anticipation. Attendees were able to gather at equipment and participate in actual workshops as technicians tackled operational challenges on-press. The use of audio visual technology, including stationary and moving cameras, to pick up and project the action on-press onto large drop-down screens in real time is part of what makes these workshops so different from other trade show educational formats.
"The commitment to technology and educational components at Odyssey set this event apart from any other event as it relates to graphic finishing. Feedback from our customers for the event exceeded expectations; they found great value in the educational format and found the content of the sessions to be very good," stated Brandtjen & Kluge CEO Michael Aumann.

In addition to the Odyssey's Techshop workshops, classroom sessions and Technology Hall, attendees had numerous opportunities to share best practices and discuss operational challenges with industry peers during the networking reception the first day and during the Awards Reception and Banquet on Thursday evening. Winners of the 20th Annual FSEA Gold Leaf Awards competition were announced, with the Best of Show going to Gravure Choquet Inc., Montreal, Quebec, for its entry in the Greeting Card Category for Most Creative Use of Foil Stamping/Embossing (visit www.fsea.com for all Gold Leaf Winners). The IADD honored its Safety Award recipients and its 2013 Lifetime Achievement Award recipient Manfred Butenuth of Elcede GmbH (visit www.iadd.org for further details).
To post a comment Log In or Become a Member, doing so is simple and free