Central Florida Press prints colorful swatchbox for Mohawk
Monday, May 13, 2013
Press release from the issuing company
Orlando, FL – Producing outstanding results with fast turnaround times to satisfy a nationwide clientele is the norm at Central Florida Press (CFP), one of the top printing companies in the Southeast. That reputation was one of the catalysts for Mohawk, North America's largest privately owned manufacturer of fine papers, envelopes and specialty substrates for commercial and digital printing, to have CFP print their new swatchbox.
The swatchbox is a container designed to hold all seven of Mohawk's new swatchbooks. CFP printed 6500 one-sided press sheets, and used CMYK with a PMS Match Gray and overall Satin Aqueous before shipping it to Mohawk's converter in south Florida for die cutting and finishing.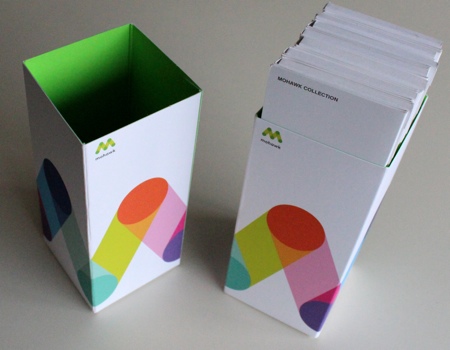 Mohawk acknowledged receiving requests for a design to hold the company's 3-inch by 9-inch newly designed swatchbooks, which fold out to reveal color chips of their signature brands, as well as finish and weight information and a waterfall. The colorful new swatchbox is a combination of Mohawk Superfine Ultrawhite Smooth 160 double thick Cover and Mohawk Britehue Vellum Lime Green 65 Cover. It is designed to hold Mohawk's new seven swatchbooks including Superfine, Loop, Via, Options and Carnival, as well as Strathmore Writing and Strathmore Premium.
"This is the first project we've done for Mohawk and there were no complications. The communication between Mohawk, the converter and us went very well," said Troy Wieberg, CFP's manager of client service.
"We ran a press test of the art and shipped it to Mohawk. After we received their approval, we sent full flat, 4-up proof layouts to the converter. Once they signed off, we ran the job on our 6-color manroland press. From the time we received the file to when we shipped final product to the converter, we turned this job in just nine business days."
Diane O'Connor, director of public relations for Mohawk, says the swatchbox is a hit.
"The new Mohawk swatchbox conveniently holds our line of redesigned swatchbooks in a neat and easy-to-access fashion. We love the clean design and the Britehue Vellum Lime Green 65 Cover on the interior makes this a colorful and useful addition to any workspace."
The swatchbox can be ordered at www.mohawkconnects.com. It was designed by Michael McGinn Design in Brooklyn, New York and finished by Fastkit Corp. in Doral, Florida.
To post a comment Log In or Become a Member, doing so is simple and free