Condat Guides You Across the Atlantic with Previously Unpublished Printed Works
Monday, April 29, 2013
Press release from the issuing company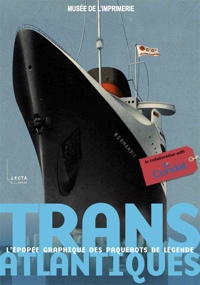 On the occasion of the exhibition "Ocean Liners: A Graphic Epic of Legendary Ships", presented by the Museum of Printing in Lyon (France), a spectacular selection of pieces showing the rise and expansion of cruise vessels has been collected, all printed on Condat matt Périgord paper.
As of April 19, 2013, the Lyon Museum of Printing is exhibiting a collection of printed works related to major shipping companies. Like other sectors of the economy, the maritime transport industry has generated a vast sea of diverse documents, one that includes advertising posters, lithographic posters, printed administrative documents, maps of ships, luggage tags and programs for gala evenings on board the titans of the sea.
A loyal partner of the Lyon Museum of Printing for many years, Condat, part of the Lecta Group, regularly collaborates in publishing the Museum's catalogs and print pieces. On this occasion, for the "Ocean Liners" exhibition, Condat 135 gram- and 300-gram matt Périgord paper was selected to guide you on your journey, with a catalog that is an eloquent reflection of the memory of major French shipping companies.
Condat matt Périgord coated paper offers exceptional specific volume and is ideal for printed works devoted to art. Faithful to the depth of contrasts and the fineness of the drawings, Condat matt Périgord paper, made for incredible stories, carries you to the other side of the Atlantic.
To post a comment Log In or Become a Member, doing so is simple and free