M13 Graphics Adds Mitsubishi Diamond 3000LX Sheetfed Press
Thursday, April 25, 2013
Press release from the issuing company
SCHAUMBURG, Ill. — Print service providers face intense pressure these days to deliver finished products in ever-shorter timeframes. M13 Graphics has made a name for itself nationwide through its ability to produce exactly what customers need when they need it.
The suburban Chicago-based company installed a Mitsubishi Diamond 3000LX sheetfed press to expand its production capabilities and provide redundant pressroom equipment. The six-color, 40-inch press replaced an older 23 x 29-inch machine from another manufacturer. Working in tandem with an existing six-color Mitsubishi Diamond 3000S with inline ultraviolet (UV) curing installed in 2012, the Diamond 3000LX will print everything from business cards, postcards and flyers to calendars, pocket folders and brochures.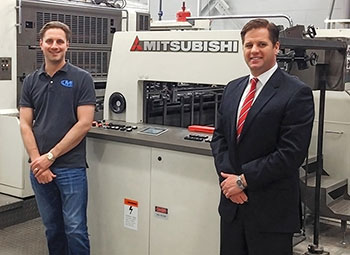 "We have always been impressed with Mitsubishi press technology," said Dan Banakis, president. "Our press operators like the reliability and ease of use. Mitsubishi presses offer fast setups and short makeready times. They can accommodate a great number of production runs in minimum time."
From its 47,000-square-foot plant in Schaumburg, Ill., M13 Graphics specializes in fast-turnaround, full-color printing using the Web-to-print business model, sheetfed equipment and hybrid UV coating and drying. In 2012, M13 Graphics opened an office in Chicago, where city dwellers enjoy the convenience of placing orders and collecting finished products at the urban location.
Print services are primarily sold via the Internet. M13 Graphics also receives walk-in and phone orders. M13 Graphics has serviced about 20,000 customers and printed several billion impressions. The company is on track to do $7 million in business this year.
Online customers have several prepriced products from which to choose. Ganging print orders in large quantities with many different print jobs laid out on the form saves time and reduces production costs. UV printing further shortens turnarounds. Online document ordering 24 hours a day enables cycle times of 24 to 48 hours on many projects.
"We print and finish gang-run projects during the third shift," Banakis said. "A customer can order 1,000 business cards today and pick up the completed order the next morning."
In addition to servicing online customers, M13 Graphics caters to ad agencies and brokers who want high-end commercial projects. Custom work tends to get printed on the first and second shifts.
"The online component of our business is really growing," Banakis noted. "That had pushed the printing capacity on the third shift almost to the limit. Running two 40-inch Mitsubishi production lines nearly doubles our capacity. It is more efficient for scheduling purposes in the pressroom and bindery to have the same plate sizes, press features and operating functions. We produce more work in less time."
The Diamond 3000LX offers a sheet thickness range of 0.002 inches to 0.040 inches.
"Before installing the Diamond 3000LX, we were able to print on substrates up to 24-point," Banakis said. "The wider stock range will open up opportunities for commercial projects. As a board press, Diamond 3000LX handles the thicker stock without marking problems."
This was the second Mitsubishi sheetfed press installed in the Chicago area so far in 2013.
To post a comment Log In or Become a Member, doing so is simple and free