Visit Utopia with Appleton Coated's new swatchbook
Wednesday, April 24, 2013
Press release from the issuing company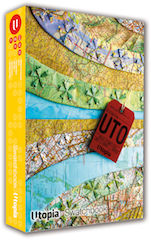 Combined Locks, Wis. -- Appleton Coated's new Utopia Swatchbook helps designers and printers map their creative course with the power of print. A comprehensive "Print Demos" section helps in selecting the best paper option and techniques. "The Utopia GPS – Green Product Selector" guides users toward achieving compatibility of print excellence and environmental stewardship.
"Combining vivid photography by Patrick Fox and superb printing, our latest swatchbook demonstrates Utopia's unique attributes, while emphasizing the excellent value and first-class service that comes with every order," says Ferkó X. Goldinger, Appleton Coated's marketing manager.
The swatchbook helps navigate the entire Utopia family of six high-quality, coated papers' grades, shades, finishes and distinct personalities:
* Utopia® Premium in Gloss, Silk and Ivory Silk – an exceptionally smooth, uniform surface with a balanced blue-white shade favored by artists and galleries for fine art and photography reproduction
* U1X® in Gloss, Silk and Matte – ultra-bright blue-whiteness for extra "pop" and surface smoothness that provide even light reflection for greater clarity and very smooth ink lay
* Utopia One® in Gloss, Dull and Matte – classic, clean, balanced blue-white shade that is perfect for flesh tones and warm colors – a shade-match to Premium
* U2:XG® in Gloss, Dull, Matte and Ivory Matte – versatile, dependable with an environmental pedigree supporting sustainability initiatives without compromise
* Utopia Two® in Gloss, Dull and Matte – dependable and economical in a clean, blue-white shade delivering performance and value for high-volume projects that need true-to-life reproduction
* Utopia Three® in Matte and in Gloss for web-only – made-to-order for high-volume direct mail projects requiring reliable performance and competitive value
Goldinger continues, "Utopia's complete range of matching text and cover weights, in extra bright white, blue-white, and warm ivory shades, delivers the right solution for every project and budget. It offers reliable, consistent performance and the smoothest, most uniform surface available today. Plus, most grades are manufactured with Green Power renewable energy, and all are acid-free and elemental chlorine-free."
Appleton Coated was the first coated paper mill to secure Forest Stewardship Council™ (FSC®) certification in 2006. All six Utopia grades also are sourced from forests certified to be sustainable, are recyclable and contain at least 15% less wood fiber than uncoated sheets.
For a copy of the new Utopia Swatchbook and for more information about Appleton Coated and the Utopia family of coated papers, visit appletoncoated.com.
To post a comment Log In or Become a Member, doing so is simple and free