Seidl's Bindery Trades Two for One with Stahlfolder TH-82 and Level III Automation from Heidelberg
Friday, April 19, 2013
Press release from the issuing company
Kennesaw, GA - Houston's Seidl's Bindery, one of the largest trade binderies in the southwest, has taken the next step in a progressive program to upgrade its folding department. The company recently installed a Stahl TH-82 4/4/4 continuous-feed, buckle-plate folder with stream delivery, SBP stacker and Level III automation from Heidelberg. The highly productive new folder, which joins another TH-82 installed 18 months ago to replace two competitive folders, also takes the place of two non-Heidelberg machines. It is the first of Seidl's folders to be entirely computer-driven.
"Stahlfolders are just better machines: more productive, more reliable, and an overall better experience in terms of service and support," said Bill Seidl, CEO. "We're saving at least 50-60 percent on makereadies. Heidelberg originally estimated we'd be able to run 16 pages at 11,000-12,000 ppm, but what we're actually achieving is more like 16 pages at 15,000 ppm."
"My Operators Love It"
Seidl could not be more pleased with the automation on the new Stahlfolder, which automatically sets the thickness of the fold rollers such that all an operator has to do is move the slitter shaft to the desired location. "Other than that, you push a button and boom! You're off to the races," Seidl said. When the folder is equipped with the labor-saving SBP stacker, "it becomes a one-man operation," he added. "The forms compress, batch count and stack while the operator loads the continuous feeder, saving time and eliminating repetitive motion. The skids stack beautifully. My operators love it."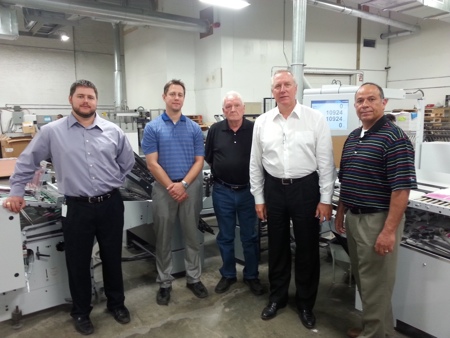 Standard features of the Stahlfolder TH 82 alone distinguish it from the competition. From feeder to delivery, Heidelberg's 2005 InterTech Award-winning TH/KH folder generation offers unmatched operator convenience, quality folding, and safe production at top speed. The modularity of the TH models also allows for a host of retrofittable options, including pre-slitter shafts and double rear-mounted slitter shafts in the 1st, 2nd or 3rd station, as well as the new slitter shaft lifting device. Level III automation features automated fold roller settings and motorized buckle plate settings for the ultimate in speed, precision, and operator convenience.
The new TH-82 folder joins a host of Heidelberg postpress equipment already in operation at Seidl's bindery, including three POLAR cutting systems, multiple Stahlfolders, and an SSP custom mail machine. In business for 37 years, Seidl's Bindery serves a regional clientele and employs a staff of 70.
To post a comment Log In or Become a Member, doing so is simple and free