DCOS will also supply two new integrated control desks for the presses, and, at the same time, will replace and integrate the colour control system, which is independent at present. The resulting improvement in efficiency and saving in paper, in combination with improved quality assurance, will ensure a rapid pay-back on the investment.
Dan Hammarström, CEO of Markbladet Tryckeri, has just given the go-ahead for a similar investment in their Manugraph press. Dan says; "We can see an excellent opportunity to further improve the efficiency of our plant. The colour control system which came with the press is no longer working optimally, and it is wasting an unacceptable amount of paper on start-up. A few years ago, we bought a new control system for our infeeds from DCOS, and this improved our registration. We are now determined to take another major step forward with a new colour control system ".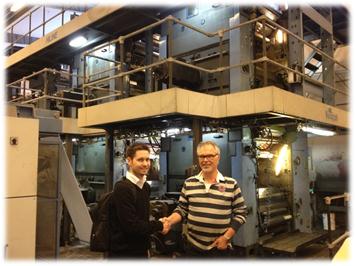 Mattias Andersson (DCOS), Dan Hammarström (Markbladet)
At the printing works in Skene, DCOS will take over the control of the existing ManuColor inking system. As well as providing a stage-by-stage solution to replace existing control cards when they expire, the new control system includes a connection to pre-setting data from prepress, and a learning function in the system, which enables the system to learn the colour transfer capability of the print unit on a continuous basis, and adjust the pre-set values to the optimal level.
"We have gained a strong position in the control of quality functions, both open and closed- loop over recent years. Our scalable, stage-by-stage solutions are highly successful, and these two projects are further evidence of their popularity. Both Markbladet Tryckeri and Mittmedia Print are successful players in Sweden, and we are very proud to be part of their future and progress", says Mattias Andersson, CEO of DCOS.