Winners Announced in GPA's 2012 Print & Design Contest
Friday, March 15, 2013
Press release from the issuing company
Chicago, IL – GPA is proud to announce the winners of their 2012 Print & Design Contest, which is designed to recognize outstanding work by GPA's customers. Companies across the country submit their entries on GPA substrates to compete in six product categories for Best of Category, and from those six, one is chosen as Best of Show.
Affordable Buttons of Rochester, MN won Best of Show in the Ultra Digital® Synthetic Films category for their entry that utilized GPA's Ultra Digital® 3 Mil Polyester, 11 pt. C2S White Matte Cover, and 70# Uncoated Text. Their fun self-promotion is intended to serve as an apocalypse survival guide, complete with a built-in note pad and buttons with survival tips. Their team wanted to create a piece that showcases a variety of their capabilities, including folding, padding, and white ink. Linda Christopherson, President of Affordable Buttons, said they like working with GPA's Ultra Digital® substrates because the ink does not crack at the fold even with heavy coverage, the polyester is very clear, and colors print true-to-life.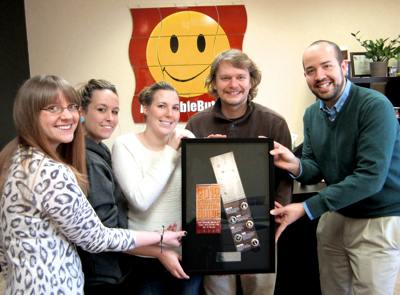 Left to Right: Danielle Kreinbring, Monica Walter, Vanessa Smith and Adam Carroll of Affordable Buttons are presented with the 2012 Print & Design Contest Best of Show award from their GPA Representative, Jules Gonzales.
"We wanted to open people's minds and show them some of the unique things we can create for them. Using white ink on the clear polyester creates a very nice effect, and that really came through on this piece. We're extremely proud to have this recognition," said Linda.
The Best of Category winners are:
Ultra Bak® Plus and Ultra Bak® Classic Pressure Sensitive Papers­­­­­­­­­ – Scarab Printing Arts of St. Charles, MO
Ultra Film® Non-Adhesive Films – Scott Lithographing of Tucker, GA
Ultra Film® Pressure Sensitive Films­ ­– Lagraphico of Burbank, CA
Ultra Digital® Papers – Miller's Professional Imaging of Pittsburgh, KS
Ultra Digital® Pressure Sensitive Papers – Moxy Ox of Springdale, AR with artwork by Chad Maupin of Big-Bot Design
This year's contest was judged by a panel of three industry experts: Chris Hyde, an award-winning graphic designer and owner of Cipher Creative Group, a graphic design agency in Connecticut; Dean Petrulakis, the Senior Vice President of Business Development at Rider Dickerson who spearheads printForum – Rider Dickerson's educational resource for marketers; and Michael Johnston, Principal at Top Graphics in Maryland Heights, MO and creator of the Print Trial Process. Entries were evaluated on uniqueness of design, number of substrates utilized, complexity of production, application use and quality of printing.
GPA's Print & Design Contest is a great opportunity for printers and end-users to showcase their best work and gain industry recognition. Now in its seventh year, the competition grows bigger and better each year, yielding new and unique examples of the opportunities available with GPA substrates. For a printed piece to be eligible, it must be from an actual job or promotion that was printed by a GPA customer on a qualified GPA substrate.
To post a comment Log In or Become a Member, doing so is simple and free