New commercial director brings sales expertise to Hollanders Printing Systems
Friday, March 08, 2013
Press release from the issuing company
In line with its current growth strategy, Hollanders Printing Systems has appointed Kees van der Looij as Commercial Director of the company, responsible for developing sales throughout Europe and internationally. Previously with Zünd, and with an in-depth knowledge of the wide-format digital printing market, his expertise will drive increased presence of ColorBooster textile solutions throughout the display, sign-making and décor sectors.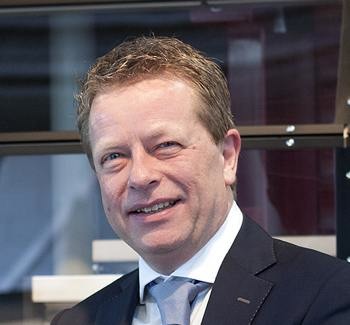 Kees van der Looij has joined Hollanders Printing Systems as Commercial Director
Van der Looij's appointment follows the recent restructuring of Hollanders to enable it to expand its production and marketing facilities to meet the demands generated by the world-wide increase of interest in wide-format digital textile printing. The new long-term financial strategy now in place will enable the existing highly productive ColorBooster XL to be complemented by additional products covering differing market sectors, augmenting the company's industry presence and simplifying the transition to textile production now sought by many print service providers.
Roland Biemans, Sales and Marketing Manager at Hollanders Printing Systems, states: "Kees joins the company at an exciting time as we are now anticipating steady growth that will enable us to bring our ColorBooster solutions to a wider market area. The addition this year of new products to our portfolio will broaden our customer base and give more businesses the opportunity to benefit from a truly productive turnkey textile production solution, so additional sales support is essential."
"My time at Zünd has given me valuable long-term experience about the wide-format digital printing sector and the potential of new machine technologies, with textile production now making a significant impact in all the markets where decorated fabrics play a role," adds van der Looij. "I'm looking forward to working with the team at Hollanders. The company's solutions are designed and manufactured to the highest standards, backed up with full support from a company that thoroughly understands user requirements."
The recent investment in Hollanders has seen the addition of two entrepreneurs who have joined the specialist manufacturer in active roles. Wout van der Wijk and Guy Zwart bring with them deep-founded experience of business management and additional wide-format experience, and their practical involvement in the company plays an important part in its forward development and growth.
Hollanders ColorBooster solutions are developed and manufactured in Eindhoven, The Netherlands, and incorporate all the hardware and software elements required for the production of high quality digital textile printing. With the emphasis on sustainable, versatile output, the systems are complemented by the company's Competence Center that comprises a collaboration with specialist partners in pre-press, colour management, finishing and materials.
To post a comment Log In or Become a Member, doing so is simple and free