Neographics Announces Call for Entries
Monday, March 04, 2013
Press release from the issuing company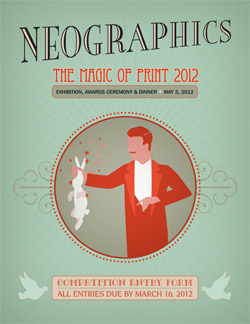 Trevose, Pennsylvania – NEOGRAPHICS, one of the nation's largest regional graphic communications competitions, is open for entries. Printers, printing service bureau, advertising agency, in-plant, finisher, packaging and/or converter, binder, plate maker, desktop publisher or graphic designers are eligible to enter. The deadline to submit exceptional printed work is March 15, 2013.
NEOGRAPHICS is dedicated to recognizing and rewarding the quality and service that is provided by the graphic arts communications, packaging and converting industries to their worldwide customers. NEOGRAPHICS is managed by the Graphic Arts Association located in Trevose, Pennsylvania. The Graphic Arts Association, a not-for-profit regional print trade association, manages PA, DE and NJ for the Printing Industries of America.
This NEOGRAPHICS will be the 42nd. In NEOGRAPHICS 2012, over 300 unique pieces were submitted in nearly 70 categories. Judging occurs over several days by team of judges who examine the finished products as well as how the job was performed. The number of colors, press size and printing process are used in determining the winners. Overall design, successful completion, prepress preparation, printing and finishing are examined closely.
Within each category, the judges present Franklin Awards for Excellence. Each of these awards is then judged in the "Best of Category" competition. Then the winning "Best of Category" Awards are judged once more to determine the " Best of the Best" – which is the "Power of Print" Award.
Online Entry Form (Opens PDF form)
To post a comment Log In or Become a Member, doing so is simple and free