MET Fine Printers and manroland sheetfed a successful partnership
Tuesday, February 26, 2013
Press release from the issuing company
MET Fine Printers, located in Vancouver BC, is a second generation family owned company. After thirty four years in the business George Kallas, the Founder and Chairman of Met Fine Printers, handed over the daily operation of the company to his son Nikos Kallas. Nikos, who graduated with a degree in Economics from the University of Western Ontario, has been involved in the printing business his entire life.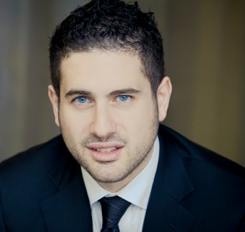 Nikos Kallas, President Met Fine Printers
MET Fine Printers is recognized as one of a handful of the world's highest quality printers. Their artistic passion for print has resulted in 31 Bennies including a "They said it could not be done" award for a Nike project. They took the top honor from the Craftsman club of North American for a 1,697 line screen 11.5 million dpi print, as well as hundreds of other local and International awards. This kind of success demands the best processes, people and the best equipment and that is why since the company was founded in 1977 they have always had manroland sheetfed presses. In fact, MET Fine Printers has never had anything other than manroland presses in their press room.
In December 2012 George, who is still semi-active in the business, was presented with the John A. Young Lifetime Achievement Award during the seventh Annual Canadian Printing Awards. George said, "We are proud of our long term relationship with manroland sheetfed and appreciate the support that we have received from them over the years. No other press in the world has come close to printing a 1,697 line screen (11.5 million DPI). MET Fine Printers and manroland sheetfed is a strong partnership that has significantly contributed to our success."
Sustainability is very important to MET Fine Printers and they have made themselves a Carbon Neutral Company. MET's zero waste program is a case study of success; they recycle literally everything from paper to organic waste, are FSC Certified, and use the EIS Blanket rejuvenation program, www.enviroimagesolutions.com. Their two manroland R700 sheetfed presses, the backbone on the printing operation, fit into this model by providing VOC free production. Nikos Kallas adds "We look forward to continuing our relationship with manroland sheetfed. When the economy slowed down we made four color work look like eight color work and the commodity printing look like high end printing. This was possible because we have the best people operating the finest equipment available in our manroland R700 sheetfed presses."
"It has been our pleasure to be associated with Met Fine Printers and the wonderful people who work there. We look forward to continuing our partnership and are honored to be their press supplier and partner." states Gina Gigliozzi, Manager Sales & Service Support.
To post a comment Log In or Become a Member, doing so is simple and free