Color-Logic to Show Latest Software at Graphics of the Americas
Monday, February 11, 2013
Press release from the issuing company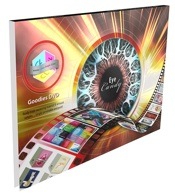 West Chester, OH - At Graphics of the Americas—in Orlando, Florida, February 21-23—Color-Logic will demonstrate the latest version of its Process Metallic Color System software. Also on display will be a new and enhanced DVD including press-ready marketing files which can be utilized by licensed printers to demonstrate the special metallic effects available with the Color-Logic System. The Process Metallic Color System is quite popular in Latin America, and the Graphics of the Americas show is an important venue for reaching those customers.
Discussing the Graphics of the Americas showing, Color-Logic Director of Sales and Marketing Mark Geeves commented: "The Color-Logic software is continuously being improved and enhanced. This year, we are showing our 2013 version, which includes our FX-Viewer module, enabling graphic designers to see the dramatic Color-Logic special effects on their design monitor before committing the files to print. Our DVD of marketing materials—also on display at the show—contains labels, magazine covers, posters, direct mail postcards, calendars, and hundreds of press-ready images for use with silver ink or metallic substrate. Since the introduction of Color-Logic in 2010, we have learned that our licensees do not have the time to develop marketing campaigns for many of the technologies in which they have invested. We listened and provide the necessary files for generating new revenue streams, enabling Color-Logic users to immediately launch a marketing program based on the markets they serve. Regardless of whether the licensed printer is using offset, flexo, inkjet, or digital, Color-Logic enables a quick payback for the invesent in our software. Most printers find that the cost of creating these files would greatly exceed the cost of the software license."
Color-Logicdevelops color communication systems and software tool sets for a variety of special effect printing applications. Color-Logic provides brand owners, product managers, corporations, and their advertising agencies the ability to differentiate themselves and their clients with a simple print production process that yields dramatic results. Color-Logic decorative effects utilize the existing workflows of printers and designers, yielding dynamic results without the use of special equipment. Color-Logic supports the value of print and works with designers and printers to enhance their printed media. For more information, visit www.color-logic.com or call 513-258-0047.
To post a comment Log In or Become a Member, doing so is simple and free