Picaboo Yearbooks Revolutionizing the Yearbook Industry with HP Indigo
Monday, January 14, 2013
Press release from the issuing company
When Picaboo, a Silicon Valley-based and North American leader in the photo book space decided to enter the multi-billion dollar yearbook industry, it had a clear goal in mind: to provide customers with a groundbreaking personalized, simplified and on-demand yearbook solution. It was a bold vision that would doubtlessly shake-up a conventional yearbook industry that had remained largely static and unchanged for decades.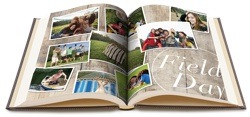 "At a time when so many other industries are focusing more and more on satisfying customer needs, the yearbook industry has been remarkably, even notoriously, anti-customer focused," commentedBryan Payne, President of Picaboo's yearbook division, Picaboo Yearbooks. "Everything has been about the yearbook companies: the rigid deadlines, the minimum order requirements, the built-in yearly cost increases, the unreasonably long shipping times, and the list goes on. We knew we had to change that for the schools and their students, for faith-based organizations and their members, and everyone else who deserved a customer-focused experience and a top quality yearbook to treasure for generations."
Of course, any worthwhile vision -- but especially one as bold as this -- needs strategic partners who can help turn it into a reality. And so when it came to finding the ideal partner, one with a pedigree for changing the game and exceeding customer expectations, the choice was obvious.
"We needed an on-demand digital printing partner who cares about customers as much as we do, and who would align with our high standards to help us revolutionize the yearbook industry forever," noted Payne. "Who else could do that besides HP Indigo?"
Through their strategic partnership, HP Indigo's market leading digital offset printing technology embeds every page of Picaboo's yearbooks with customer-selected, stunningly sophisticated color and detail that has to be seen – and felt – to be thoroughly appreciated. It's a level of print quality, personalization and versatility that's unheard of in the yearbook industry, and results in a product that deserves to be labeled more as a precious heirloom than a conventional yearbook.
"The HP Indigo digital press technology combines the look and feel of traditional offset with genuine photo quality for images" commented Avi Basu, HP's Manager of Business Development. "Leading providers like Picaboo make it possible to create a professional-quality book that is personal and meaningful."
According to initial feedback from customers, Picaboo Yearbooks is re-defining the traditional model, and making it possible for schools, groups, organizations, families and individuals to enjoy a top quality yearbook that will surpass their expectations, and frankly, redefine everything they know – or thought they knew – about yearbooks.
Basu, was a keynote speaker at Picaboo Yearbooks' inaugural International Dealership Rally in Las Vegas. "HP is pleased to partner with innovative companies like Picaboo that can effectively harness the web based collaboration and digital print technology to re-define or create new markets and provide superior value to the customers."
As exciting as it has been so far to see Picaboo Yearbooks' bold vision come to life through strategic partnership such as this – and especially from the overwhelmingly positive response from schools, faith-based organizations and other customers -- the company's president isn't about to let his team rest on their collective achievements; however noteworthy they may be.
"When we promised that we were going to revolutionize the yearbook industry -- which hadn't changed in generations -- competitors in the industry greeted us with everything from indifference to arrogance," stated Payne. "But now that we've reinvented how the world thinks about yearbooks, those same companies are wondering how on earth we did it. The answer? We don't believe in boundaries or limits, and we're absolutely dedicated to serving our customers. They deserve the very best, and with the technology and marketing support of global leaders such as HP Indigo, that's exactly what we're delivering: the very best yearbook at a great price, with no risk and no compromises!"
When asked about what the future holds for Picaboo Yearbooks, and how this revolution in the yearbook industry will continue unfold, Payne playfully grinned like a child on Christmas morning who has dozens more presents to unwrap; each one better than the last.
"We're just getting started," he said, with a wink.
More information on Picaboo Yearbooks is available at http://yearbooks.picaboo.com/.
More information on HP Indigo is available at http://hp.com/go/indigo.
To post a comment Log In or Become a Member, doing so is simple and free