Prime Data Improves Production Operations with Presstek 52DI
Friday, January 11, 2013
Press release from the issuing company
Eliminates outsourcing, improves control and quality, reduces environmental footprint
Greenwich, CT – Presstek, Inc., a leading supplier of digital offset printing solutions to the printing and communications industries, today announced that Prime Data, located in Aurora, Ontario, Canada, has installed a Presstek 52DI digital offset press to reduce both the amount of print it outsources and its environmental footprint. Prime Data is a not-for-profit organization that powers thousands of data-driven fundraising campaigns with analytics, data cleaning, segmentation and variable data printing.
"We needed to make some changes to our production platform to achieve a number of business objectives," said Steve Falk, President of Prime Data. "Not only were we looking to better position ourselves to meet client corporate social responsibility guidelines, but we also wanted more control over timelines, quality, and cost. We were introduced to the Presstek 52DI and Presstek's position on environmental sustainability at Graphics Canada in 2011, and we immediately recognized the advantages this press could bring to our operation."
Prime Data was outsourcing all of its static printing prior to acquiring the Presstek 52DI. "This created a number of issues for us," Falk explained. "As client timelines got shorter, it became more difficult to meet their deadlines using outsourced print suppliers. In addition, we wanted a process that delivered proven environmental sustainability. The Presstek 52DI's fast makeready, chemistry-free on-press platemaking, waterless printing technology, and extreme automation met those needs perfectly. Its high quality printing is an added bonus for us and for our clients."
In producing its fundraising and solicitation materials, Prime Data creates a large volume of offset shells and runs those back through their digital presses for short-run customization. Being able to handle the longer runs of offset shells and the shorter run customizations quickly and cost-effectively in-house creates a much more efficient process and ensures the high level of quality the company is dedicated to delivering on behalf of its clients.
The Presstek 52DI is a highly automated 52cm landscape digital offset 4-color press with a full range of productivity enhancing options. The 52DI features support for 300 lpi and FM screening, goes from digital file to sellable sheet in 10 minutes and has a small environmental footprint. The press prints up to 10,000 sheets per hour and is available with an inline aqueous coater.
"Since Prime Data had been outsourcing its offset printing and didn't have a journeyman offset press operator on staff," said Joe Demharter, Presstek's Vice President of Sales, "the Presstek 52DI's high level of automation and ease of use was very attractive to the company. At Prime Data, the prepress operator also runs the press, keeping labor costs low and productivity high."
"Our decision to acquire the Presstek 52DI was validated almost immediately after it was installed," Falk added. "A client wanted to add a four-colour slip into a job in progress with a two-day turnaround to meet the mail date. With the flexibility and control of the process offered by the Presstek 52DI, we were able to meet the challenge and leave the client completely satisfied. We expect to accumulate many more of these stories over the life of the 52DI."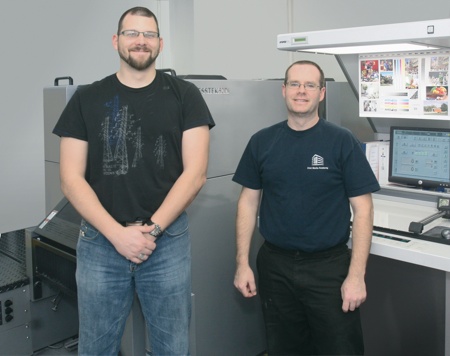 Chris Burke (left) and Sean Learney press operators at Prime Data
To post a comment Log In or Become a Member, doing so is simple and free