KBA Unveils Brand New Rapida 105 and 106 at drupa 2012
Monday, April 23, 2012
Press release from the issuing company
KBA North America announces that both its popular Rapida 105 and Rapida 106 41-inch presses will be showcased with new automation, faster running speeds, and a new press platform at Drupa 2012 scheduled for May 3-16 in Düsseldorf, Germany. KBA, which is describing this year's exhibition theme as "Sprinting Ahead", has booked a large 37,700ft² stand in Hall 16, Stand C47 as the showcase for its many new developments for sheetfed, digital and web offset printers including daily demonstrations of both the Rapida 105 and Rapida 106 presses.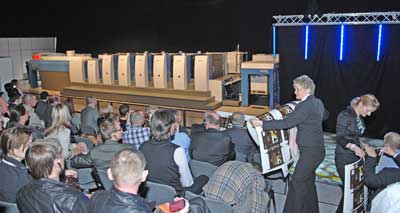 Digital joins offset: Rapida 105 with inkjet printing system
Under the banner "Designed for Performance", KBA will be presenting a completely new medium-format series in Düsseldorf for the Rapida 105 41-inch model. The range of automation options has been extended compared to the predecessor model and the maximum production speed for presses incorporating the high-speed package is to be raised to 17,000sph. The Rapida 105 is also available in a four-over-four perfector configuration, with a perfecting unit based on the modern technology of the Rapida 106.

The real show highlight, however, is the presentation of this internationally popular press type in a hybrid offset/inkjet version. The five offset printing units and coater tower are joined by an inkjet unit with two Delta 105iUV printing systems from Atlantic Zeiser for personalized imprinting and coding applications. Due to an innovative vacuum cylinder (AirTronic Drum) to fix the sheets under the inkjet heads, the KBA Rapida 105 and 106 are currently the only presses on the market to incorporate this option without the need for mechanical sheet guides and print-free corridors. The unique solution prevents lifting of the tail edges and enables the inkjet systems to be installed at a clearance of only 0.04 inches from the sheet. UV-LED dryers provide for fast drying of the ink.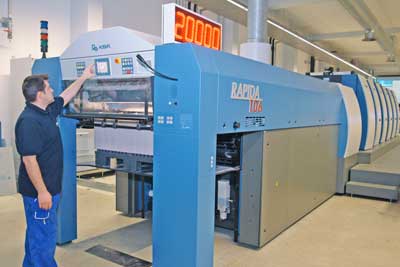 There are many potential applications for inkjet systems in a sheetfed printing press. They range from sheet marking in connection with quality inspection using the alphaJET-tempo printer from KBA-Metronic to codings for purposes of brand protection (barcodes, QR codes, numerical IDs or combinations thereof). Relevant fields are security printing, packaging, labels, lottery tickets and industrial product marking. Up to eight inkjet heads from Atlantic Zeiser can be accommodated in a printing unit of the Rapida 105 or 106 press. The high-speed greyscale printer is equally suitable for coated, laminated, glossy and non-absorbent materials. A mini controller takes care of system handling in marking, inspection and quality assurance processes. Quality control, including verification of the variable data, is similarly the purpose of a high-speed camera system. Another valuable option for packaging printers is the marking of individual blanks in connection with the inline sheet inspection system KBA QualiTronic MarkPlus. Flawed blanks can then be ejected automatically during downstream processing, e.g. in the folder gluer. With the KBA AirTronic Drum, further inline finishing processes are likely to be integrated in future.



Rapida 106: 20,000sph and many brand new features
At this year's show, the makeready world champion Rapida 106 press will be displayed with an optional package that raises the maximum production speed one notch further to 20,000sph in straight printing and 18,000sph in perfecting mode. At Drupa, this KBA flagship press will be seen in a 12-unit configuration for four-color print and inline coating on both sides of the sheet. Among the many innovations incorporated into this already highly-automated press, particular mention should be made of the new coater tower with simultaneous form changing (DriveTronic SFC), automated anilox roller exchange with AniloxLoader, the further optimized AirTronic delivery for exact pile formation at even the highest speeds, new modules for online and inline quality monitoring and control, and a new ErgoTronic console with wall screen as on the large-format presses.

KBA North America is located in Dallas, Texas and a member of the KBA Group. Established almost 200 years ago in Wuerzburg, Germany, Koenig & Bauer AG (KBA) is the oldest and second largest press manufacturer worldwide. KBA's banner, 'People & Print', reflects its dual focus as a leading innovator for print entrepreneurs. The group's product range is the broadest in the industry; its portfolio includes commercial and newspaper web presses, sheetfed offset presses in all format classes, inkjet systems and presses, special presses for banknotes, securities, metal-decorating, smart cards and discs. For more information visit the company's web site at www.kba.com.
To post a comment Log In or Become a Member, doing so is simple and free