Data Analysis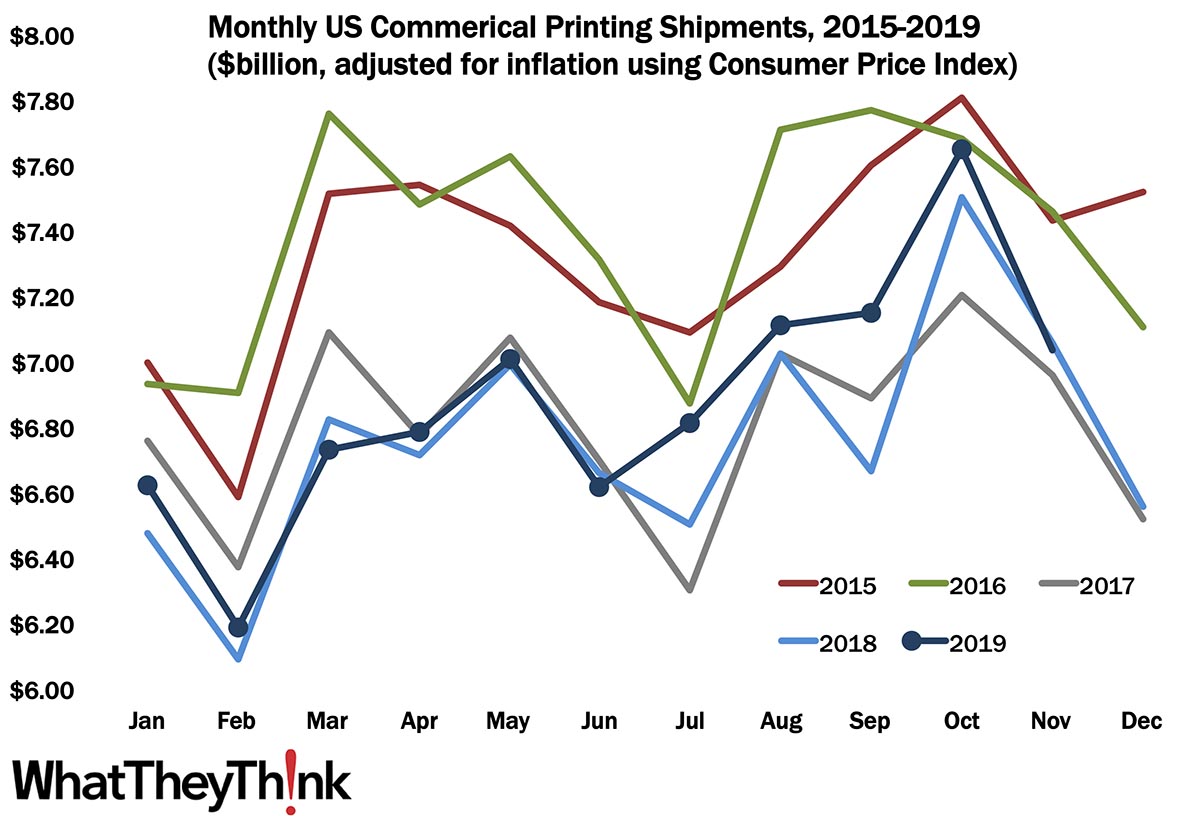 November Printing Shipments: Off for the Holidays
Published: January 17, 2020
The value of printing shipments for November 2019 was $7.03 billion—a pretty big drop from October's $7.65 billion, but we kind of expected it, as November and December see business slow down for the holidays.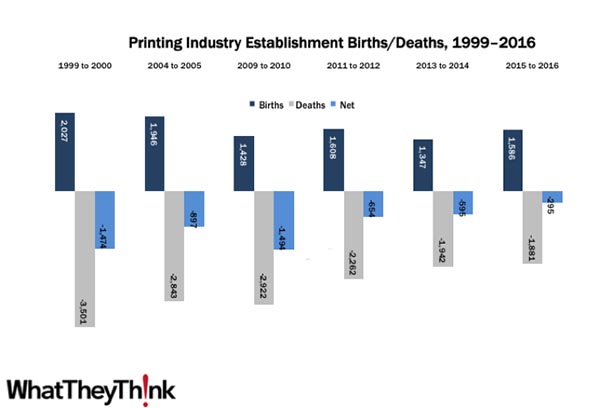 Establishment Births/Deaths: Industry Attrition Continues to Slow
Published: January 10, 2020
From 2015 to 2016, there had been an increase of 1,586 establishments, but a decrease of -1,881 establishments, for a net loss of -295 establishments. That's a smaller percentage change than previous years, which reflects somewhat of a deceleration in industry consolidation.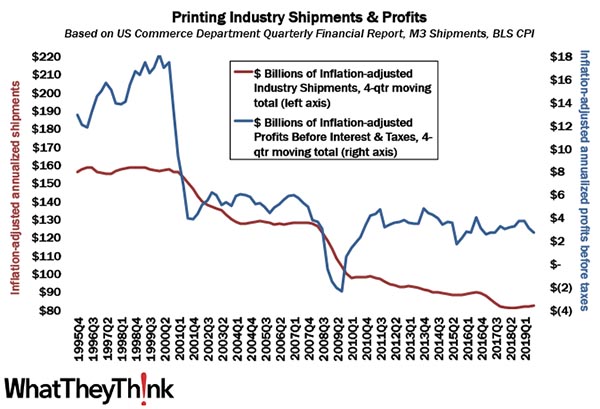 The Next Chapter in the Printing Profits "Tale of Two Cities"
Published: December 20, 2019
Industry profits data for the third quarter of 2019 were down from $3.05 billion in Q2 to $2.65 billion. Large printers continue to be the trouble spot.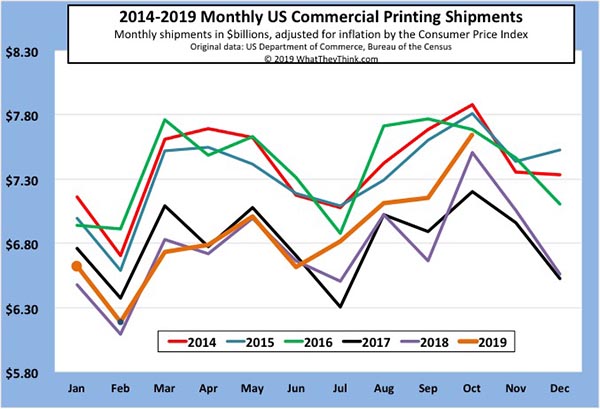 October Printing Shipments: Raise a Glass of Holiday Cheer
Published: December 13, 2019
The value of printing shipments for October 2019 was $7.65 billion—a pretty big jump from September's $7.14 billion. October has become the biggest month of the year, and this is the best October the industry has had since 2016.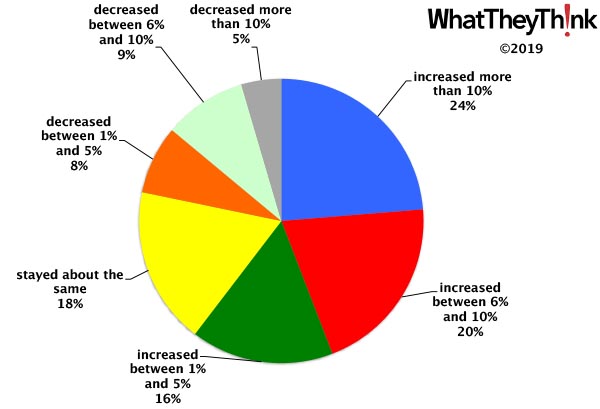 First Look: Industry Business Conditions 2019
Published: December 6, 2019
Preliminary results from our 2019 Business Outlook Survey show that one-fourth (24%) of survey respondents reported that, compared to 2018, revenues for 2019 were up more than 10%. That's the highest this has been since we started our annual survey in 2015. Elsewhere, though, things are a bit more muted.
October Jobs: Production Down, Managerial Up
Published: November 22, 2019
In October, overall printing employment dropped -0.3% from September. On a year-over-year basis, though, it was down -2.4%. Production employment was down -0.7% from September to October, but year-over-year was down -4.8%. On the other hand, non-production employment was up +0.7% from September to October, and year-over-year was up +2.9%.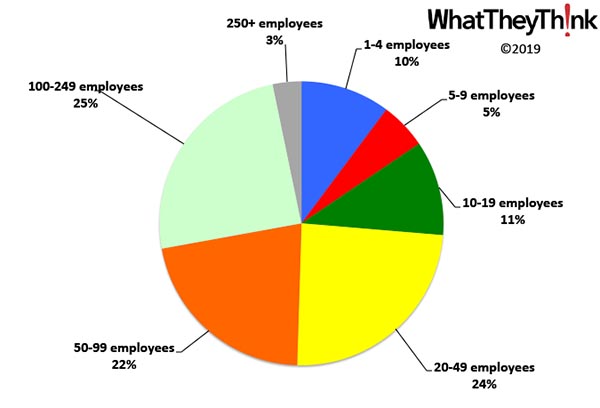 Paperboard Container Manufacturing Establishments—2016
Published: November 15, 2019
In 2016, there were 1,971 establishments in NAICS 32221 (Paperboard Container Manufacturing). One-half of these establishments have 50 or more employees, and three-fourths have 20 or more employees.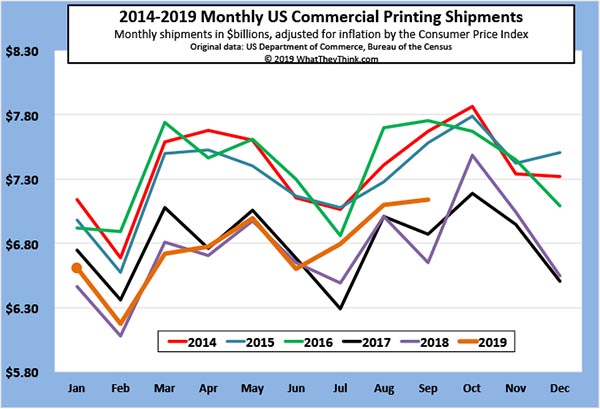 No Fall for Printing Shipments
Published: November 8, 2019
Heading into Fall 2019, the value of printing shipments for September 2019 was $7.14 billion—up from August's $7.10 billion. It's not a huge rise, but given that for the last few years September shipments declined from August's, we'll take it.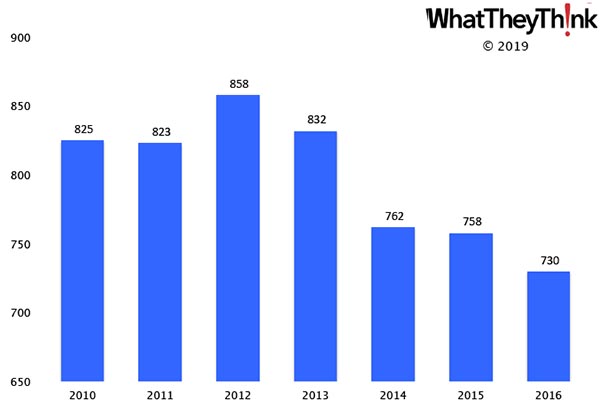 Paper Bag and Coated and Treated Paper Manufacturing—2010–2016
Published: November 1, 2019
In 2010, there were 825 establishments in NAICS 32222 (Paper Bag and Coated and Treated Paper Manufacturing). By 2016, that number had declined for a net loss of -12% to 730.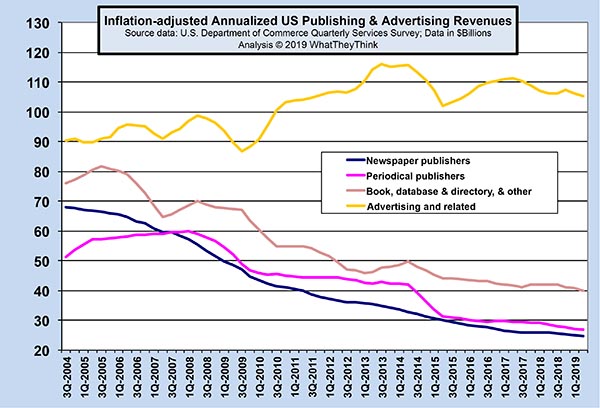 The View from the Other Side: Print Buyers' Revenues
Published: October 25, 2019
Publishing and advertising are among the biggest print-buying markets. Last month, the Census Bureau released its Quarterly Services Survey, which reported revenues for these markets. Publishers' revenues continue their long decline, while the up-and-down of advertising revenues indicate the extent to which the nature of advertising is changing.