Print17 Coverage
A trade show is always an interesting ecosystem, and the Print 2017 event in Chicago was no exception. This article provides a brief overview of the highlights from the show floor.
---
Who didn't envy or aspire to become a big, high profile printing business? The print business has been turned on its head, where small and medium businesses are outperforming their much bigger counterparts. The latter are still dealing with the relevance of legacy processes and assets while trying to bring new focus to rich digital media interactions to static formats like print. There's no doubt: The Third Wave is being released at a pivotal moment. While the industry is churning, there are warning signs in the economy and for content creation markets. Dr. Joe is getting that 2008 feeling: he doesn't like it.
---
Are you ready to think about how your operation can start taking advantage of the cloud? It's an inevitable evolution as everyone seeks to produce higher quality, push through higher volumes, and manage more workflows using the same staffing and resources.
---
Many historians agree that there have been three industrial revolutions to date, but interconnected digital technology might be triggering the fourth. Print 2017 is nearly upon us, and the concept of "Industry 4.0" will likely be a major theme at the event. This article discusses some of the Print 2017 advancements that are expected to change how print is manufactured, what service providers produce, and who print service providers will become as they transform their businesses to better align with digital technologies.
---
Frank Learns about PrintReleaf at Print17
Published: November 3, 2017
Frank meets Jordan Darragh of PrintReleaf which helps printing organizations nullify the effect of print on forests. Printers use online tools to calculate print job effects and trees are planted in five forests around the world to compensate for the tress used for printing. Over 500,000 trees have been planted.
Frank Talks to Dave Henkel of Johnson & Quin
Published: October 27, 2017
Dave Henkel is president of Johnson & Quin, a pioneer in variable data printing. J&Q has long been a major force in direct mail and integrated marketing. Dave was into digital printing since it has been in its infancy.
Print 17: "best show in recent years" but "our work is not done"
Published: September 18, 2017
WhatTheyThink sat down with NPES President Thayer Long at the end of Print 17 to talk about what worked with the changes to the Print show and the evolution of graphic communication trade shows in the US.
Published: September 15, 2017
Eric Frank of KBA brought us up to date on KBA. The company celebrates its 200th anniversary this year. Frederick Koenig invented the first steam-driven cylinder press for the London Times and his company continues to innovate after two centuries.
Frank takes a look at Canon's Océ i300 at Print 17
Published: September 14, 2017
Sander Hendrix of Canon talks to Frank about the newest member of the Canon Océ digital printing family. Canon has a new sheetfed inkjet press that is finding acceptance in the commercial printing market.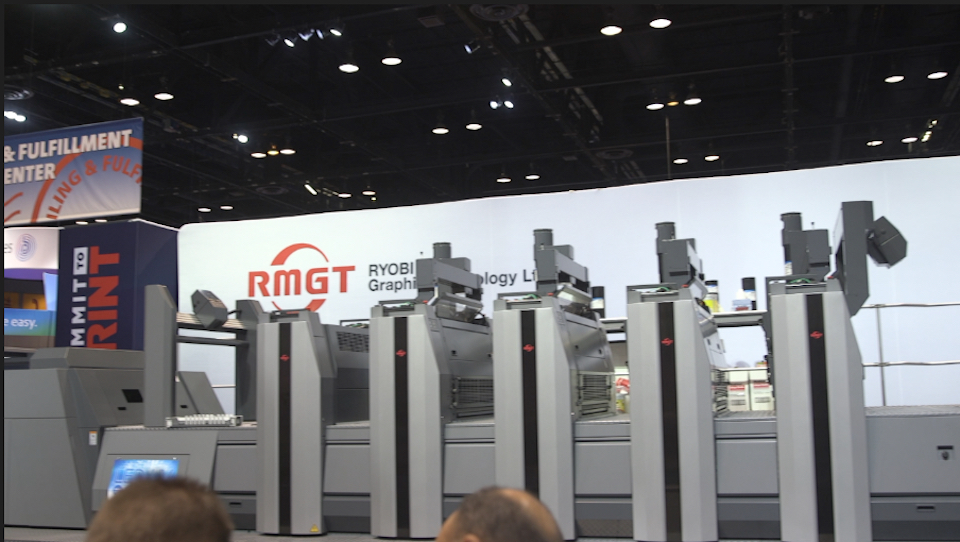 RMGT 9 Series 8 Color Perfecting Press Live at PRINT 17
Published: September 13, 2017
RMGT is running its 9 Series perfecting press live at PRINT 17. Chris Manley, President of Graphco, talks about bringing heavy iron to the show and recent customer placements.
Print17 Day 2 Show Floor Opening
Published: September 12, 2017
A time lapse of the show floor opening on day 2 of Print17 showing the buildup of people waiting to get on to the show floor and the release when the show opens at 10am.
Xerox and Fujifilm Expand North American Reseller Partnership to Include Collective Inkjet Portfolios
Published: September 12, 2017
Todd Zimmerman (Division President at Fujifilm) and Andrew Copley (Head of Graphic Communication at Xerox) discuss the details around the recently announced expansion of their reseller partnership.
Published: September 11, 2017
Live at Print 17: Kevin Goeminne, CEO of CHILI Publish talks the latest products announcements, partnerships, and continued expansion in the US market.
Canon's Mal Baboyian talks about Print 17 and Canon's Exhibit
Published: September 11, 2017
Mal Baboyian of Canon U.S.A talks about the portfolio of products and solutions that Canon has on display at Print 17.