Data Analysis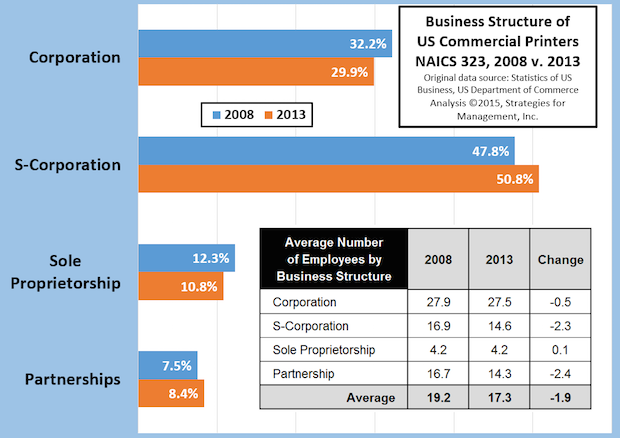 How the Business Structure of Commercial Printers Changed from 2008 to 2013
Published: December 17, 2015
The recession started just before 2008 was beginning and the latest data from the County Business Patterns report shows how the business formats of the industry changed by 2013.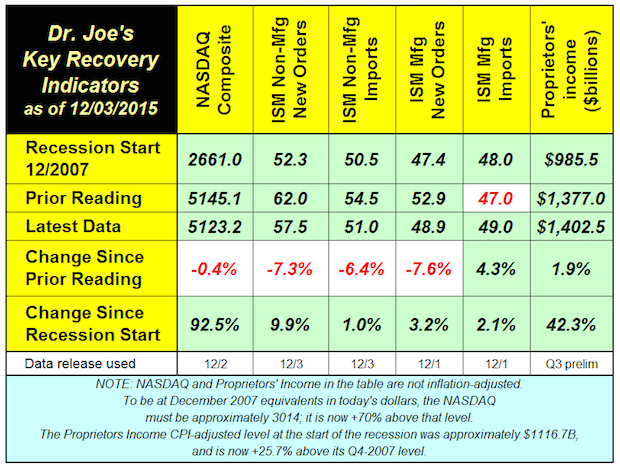 Recovery Indicators Cause Concern
Published: December 3, 2015
The recovery indicators turned in a mixed performance that warrants some caution, concern but not worry, yet. Some outside economic analysts starting to raise concerns about the economy in 2016. Citibank analysts peg the chances of recession in 2016 at 65%, the first such prognostication of a major investment firm that we have seen.
US Commercial Printing Shipments Have a Strong October, +$204 Million
Published: December 3, 2015
For 17 consecutive months the US commercial printing industry has scored increased shipments compared to the same month of the prior year. In current dollars, the Commerce Department reported that shipments were $7.729 billion. That meant that October 2016's shipments were +$204 million compared to 2015, a +2.7% performance. For the year through October, shipments are +3.3% on a current dollar basis.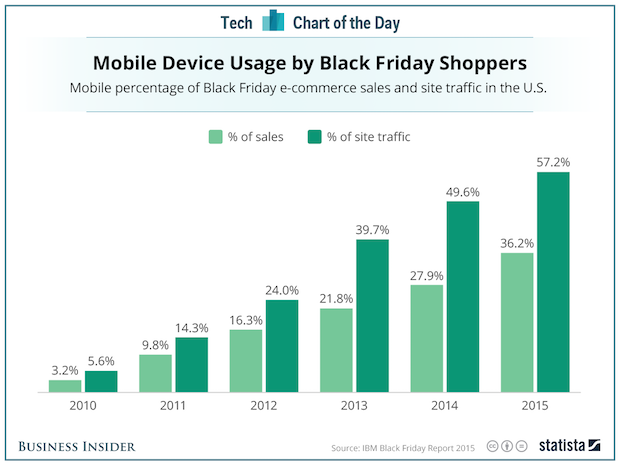 Mobile Plays Big Role in Black Friday
Published: December 3, 2015
The rise of mobile marketing has been long expected, and it looks like Black Friday 2015 is key milestone: mobile was more than half of web site traffic for e-commerce sites. Black Friday "brick-and-mortar" traffic was disappointing, but retailers were aggressively pushing sales online because it reduces the risks of riot-like runs for bargains as stores open. Target Stores had so much online traffic for CyberMonday its servers could not handle the volume. It wasn't the first time that Target misforecast demand for online sales. Some of Black Friday shopping may have been "window shopping" for mobile ordering. IBM, which still has a big business in systems for retailers issued a free download report about what was learned on Black Friday. In that report is the chart we highlight this week. If you sell to retailers or to businesses that sell to retailers, the report is worth reading.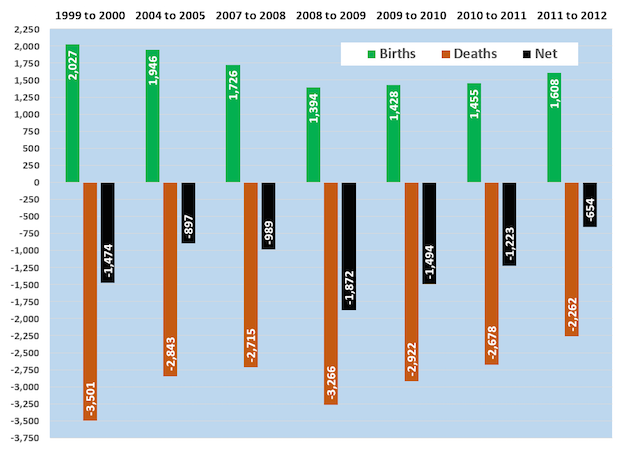 Printing's Birth-Death Data Show Improving Industry Health
Published: November 19, 2015
Even the usual industry dynamics are dynamic. The latest commercial printing industry birth-death data comparing 2012 to 2011 show a rising birth rate and a declining death rate. The +1608 births and -2262 deaths in 2012 were recent lows, as was the net change of only -654 establishments.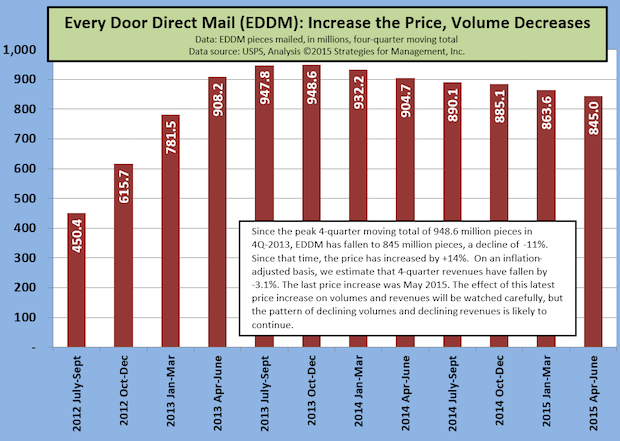 USPS EDDM Volume Decline Continues
Published: November 13, 2015
What could be an important product for local retailers to make their baby steps into direct mail, keeps declining as the USPS raises prices on the Every Door Direct Mail (EDDM) service.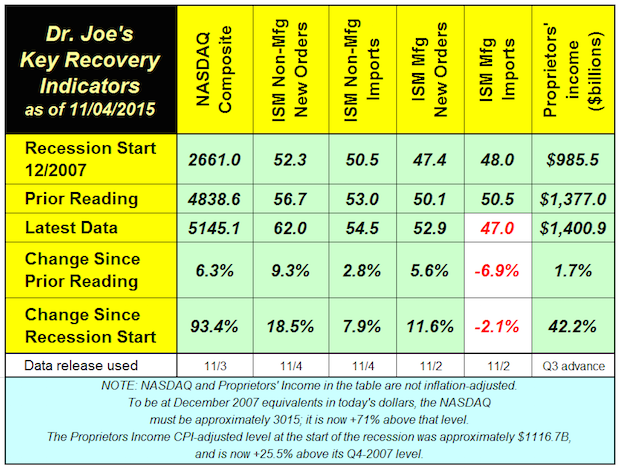 Recovery Indicators Bounce Back
Published: November 9, 2015
The recovery indicators had a better month than last. Five of the six indicators increased and one fell below the level of the start of the recession. New orders for manufacturing and non-manufacturing were impressive in their increases, in stark contrast to government reports about September's durable goods and factory orders.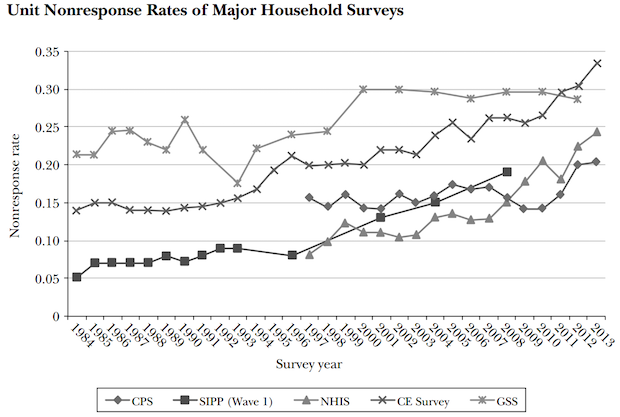 Published: November 5, 2015
A recent academic paper published in the Journal of Economic Perspectives (Volume 29, Number 4, Fall 2015), "Household Surveys in Crisis," illustrates the problems of government surveys that are used to make multibillion dollar and multiyear decisions of government and business.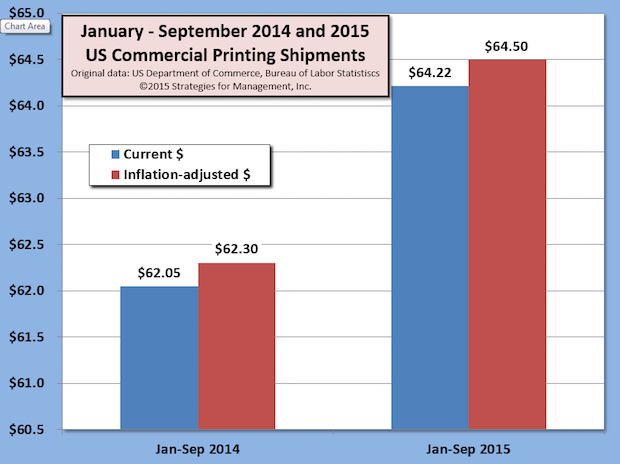 Third Quarter US Commercial Printing Shipments Have Highest Growth Rate Since 1996
Published: November 4, 2015
The US Commerce Department reported that commercial printing industry shipments are up for 16 consecutive months in current dollars compared to the same month of 2014.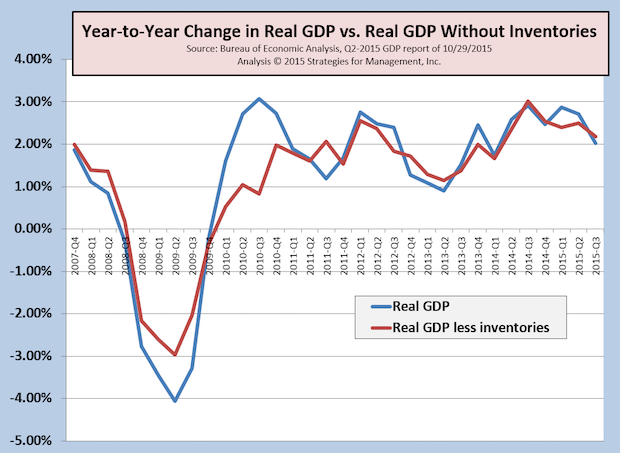 Third Quarter GDP Not Good, but Better Under the Surface
Published: October 29, 2015
The advance estimate of third quarter 2015 real GDP is +1.5%. We much prefer the year-to-year comparison, and also without the fluctuations of inventories. Those figures, also indicated in the chart, are +2.03% and +2.18% respectively. Net inventories have been running very high, but in the third quarter were $56.8 billion. This figure was cut in half from Q2, and is close to the 2010 to 2014 average.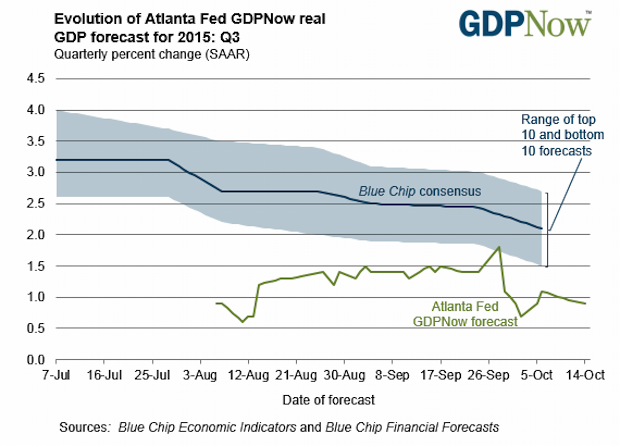 Recession Coming? Third Quarter GDP Looks Weaker than Experts Forecasted
Published: October 22, 2015
The latest estimate (October 20) by the Atlanta Fed's GDPNow model indicates that third quarter GDP will be +0.9%. That is, until the next data for their model comes in.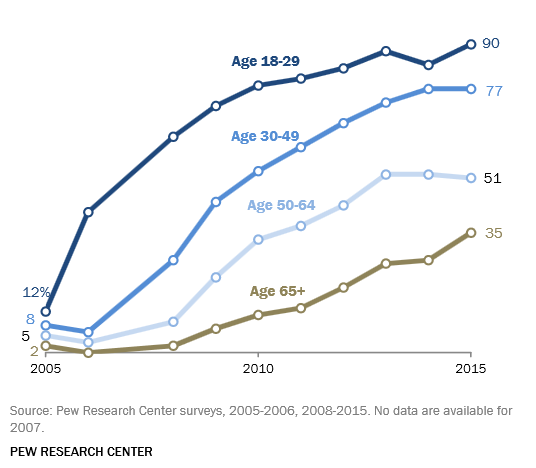 Pew Internet Survey Shows Social Media Use Up, Way Up, in Last Ten Years
Published: October 15, 2015
The Pew Internet Survey has released their latest survey (free download) of social media use and the long term trends are striking. The organization started tracking use in 2005 when social media use was by just 7% of the US population. Now, 65% of adults use social networking sites. Our chart shows the increases by age group.
Ninety percent of those between 18 and 29 use social media, which is not a surprise. Those social media users who are 65+ has more than tripled from 11% in 2010 to 35% in 2015. The report includes data about social media use by various demographics including income, race, gender, community, and education.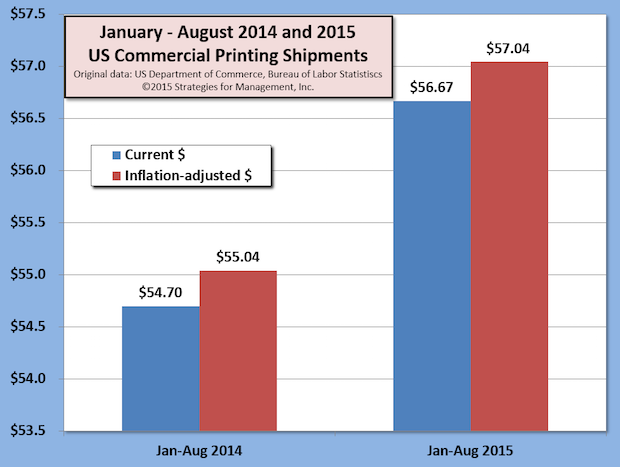 Commercial Printing Shipments in Uptrend: 15 Consecutive Months of Growth, Best Growth Rate Since 1996
Published: October 14, 2015
US commercial printing industry shipments are up for 15 consecutive months compared to the same month of the prior year.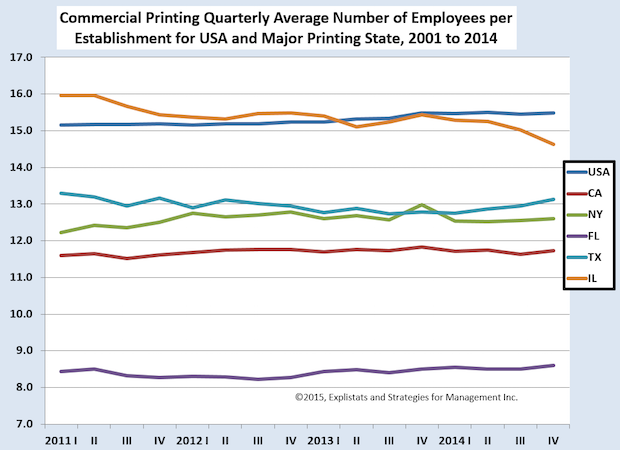 Changes in Commercial Printing Employment by State
Published: October 8, 2015
The chart shows the changes in the average number of employees per establishment in the US and large printing states. The average size of printing businesses in an area offers clues to the kinds of printing produced there and the history of the industry in that area.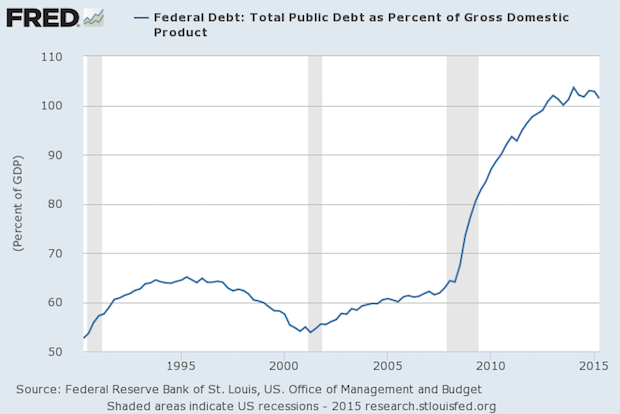 Published: October 2, 2015
Many people confuse debt and deficit when they see it as part of the Federal government's annual budget. Deficit is the annual shortfall between a government's spending and its revenues. Debt is the accumulation of all of the deficits and surpluses of the prior years in that government's history.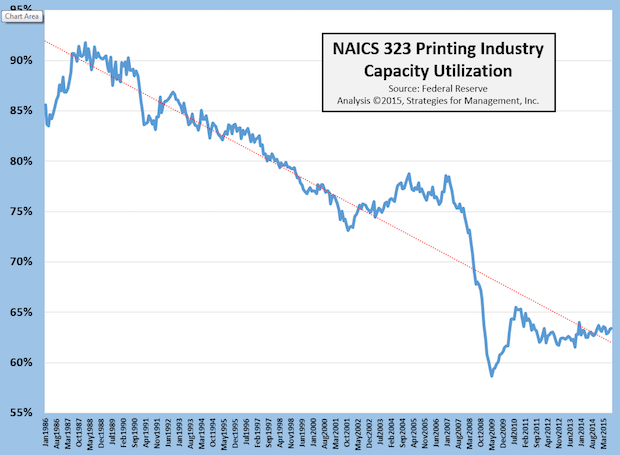 Updated Printing Industry Capacity Utilization Data – Not What Everyone Thinks It Is
Published: October 1, 2015
Even in the industry's most profitable and growing years, the mantra "there's too much capacity in the industry" was always heard. It's been a misplaced and inaccurate portrayal of the business, yet it persists.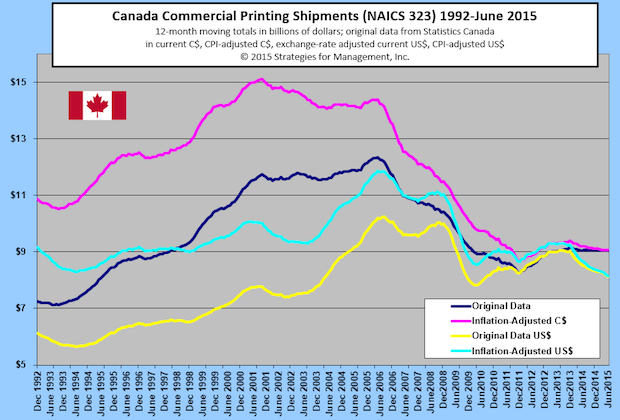 Canada's Commercial Printing Shipments
Published: September 17, 2015
Canada's commercial printing industry had a small rebound more than three years ago, before that of the US, and has been on a somewhat steady course since. In US dollars, however, Canada's gains market have been erased recently with the stronger dollar.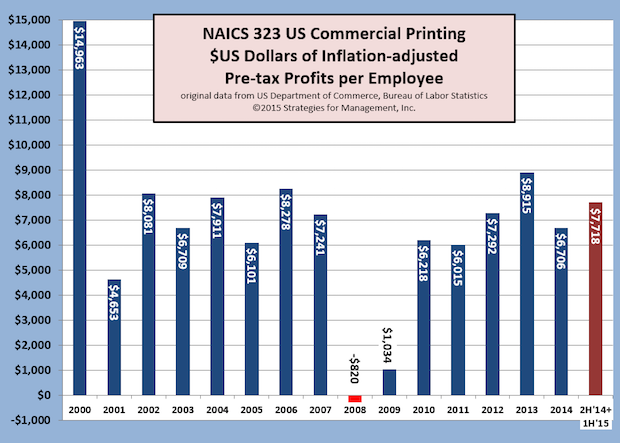 Published: September 10, 2015
The nearly $15,000 profit per employee of 2000 may not be in the cards for the US commercial printing business any time soon, but it looks like this measure is headed to its second best performance since the end of the recession. Using the latest data for the second quarter of 2015, and adding the previous three quarters to create a full year, profits per employee seem to be headed to $7,700, a thousand dollars more than the level of 2014.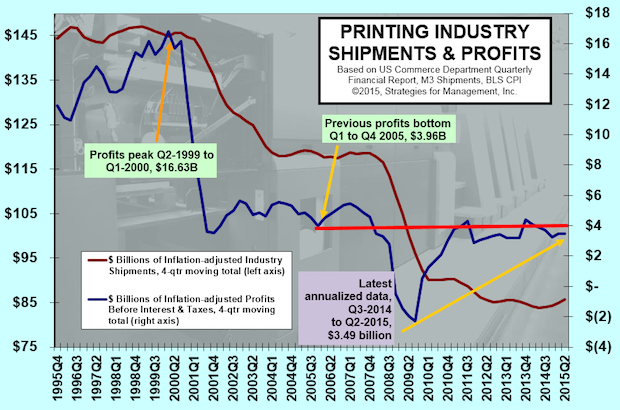 Improvement in Industry Shipments, Profits Improvement Elusive
Published: September 9, 2015
The 4-quarter moving total of inflation-adjusted US commercial printing shipments have been increasing, but unfortunately profits have not. Q2-2015 four-quarter shipments are up +2.3%, but profits are unfortunately down for the last four quarters -10.8%.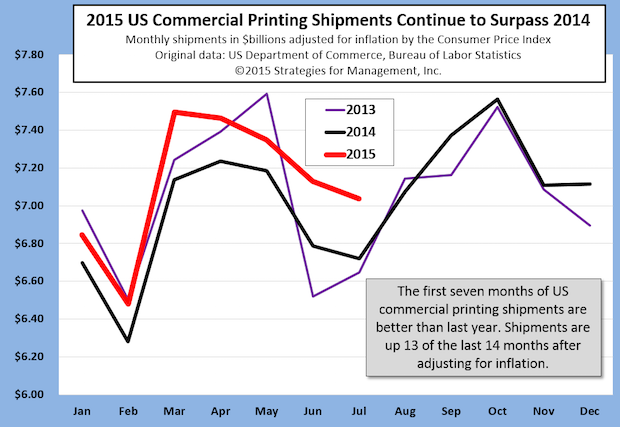 Latest Printing Shipments Reflect Rebound
Published: September 3, 2015
July's inflation-adjusted US commercial printing shipments continued to outshine prior year shipment levels. This was the best July since 2008 on a current dollar basis and since 2010 on an inflation-adjusted basis. On average, monthly industry shipments have been about $200 million higher than the year before. They are also tracking closer to GDP growth rates, a feat the industry has not done for almost two decades.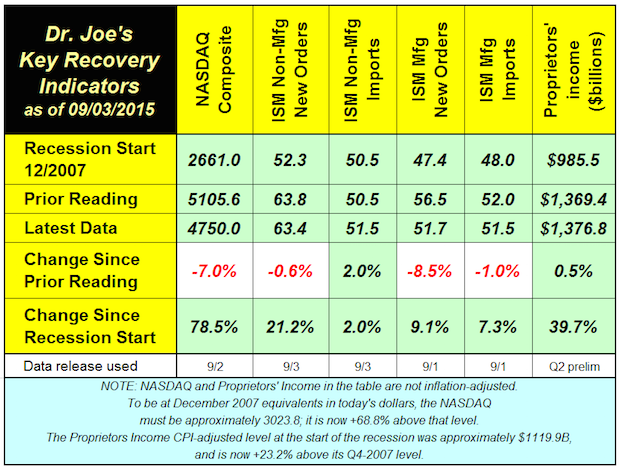 Recovery Indicators Mixed with Slight Downward Bias; Sluggish Economy Remains
Published: September 2, 2015
Four of the six recovery indicators fell last month, but the non-manufacturing new orders indicator remained very strong. World markets had a rocky month, and the NASDAQ fell -7% since the last indicators.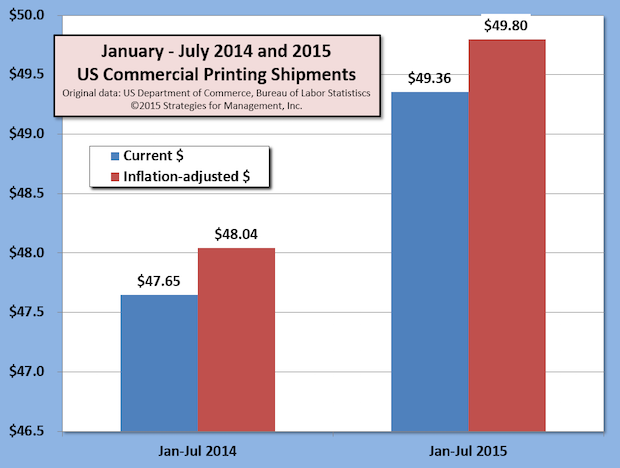 US Commercial Printing Shipments Up for 14 Consecutive Months
Published: September 2, 2015
US commercial printing shipments were nearly $7.04 billion in July, a $392 million increase (+4.9%) on a current dollar basis compared to 2014. This was the strongest July since 2008.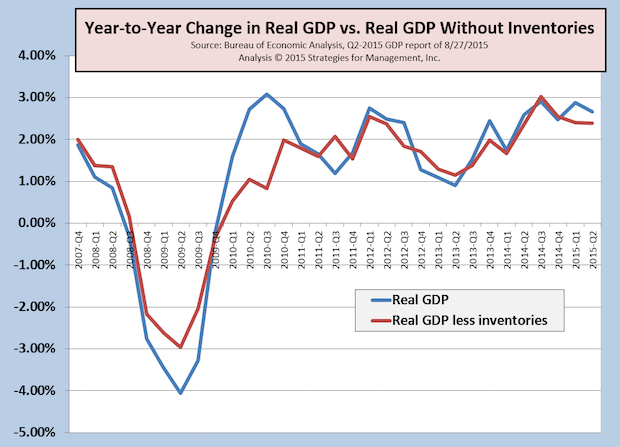 Q2 GDP Revised Up, Bigger Rebound from Q1... But What's Ahead?
Published: August 27, 2015
The first report of Q2-2015 real GDP was +2.3%, and now it's been raised to +3.7%, well ahead of forecaster expectations. On a longer-term year-to-year basis, the growth rate is +2.5%, still almost a full percentage point below post-WW2 average.
Longer term rate +2.5%. The effects of inventory increases is still a major factor in the growth, but there were other positives in the report implying that Q2 was broadly better than originally thought. There are concerns among professional forecasters that the inventory buildup will result in slower growth as those stockpiles are reduced. Considering that two thirds of the third quarter is almost complete, we know that international trade is being disrupted by currency and solvency issues in China and other countries. The Federal Reserve Bank of Atlanta GDPNow estimates that third quarter GDP will be at +1.4%. Please also note a recent chart where we showed important key indicators that have yet to surpass their recession levels from Q4-2007.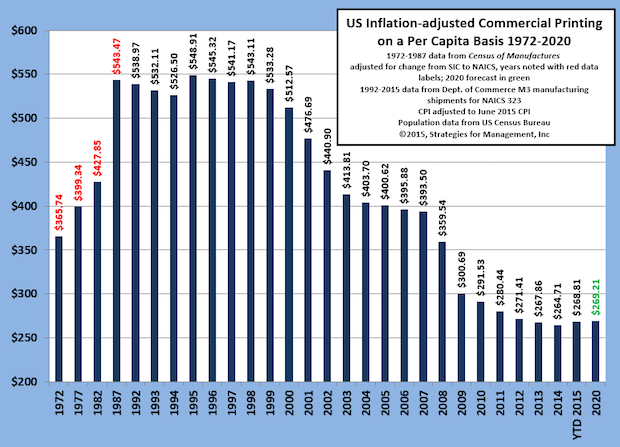 Per Capita Commercial Printing Shipments Stabilize; Forecast Models Project Levels to Continue
Published: August 20, 2015
The per capita value of US commercial printing shipments has stabilized at nearly $270, and the recent change in the direction of shipments in the last year or so has changed the forecasts. Forecast models place heavy weight on recent history, and that fact has changed the forecast for 2020 to remain at current levels. It was not long ago that the models forecast 2020 consumption at near zero, an unlikely outcome, but one worth pondering. Will shipments stay at these levels? That's unlikely, too, as media formats and loyalties are still changing.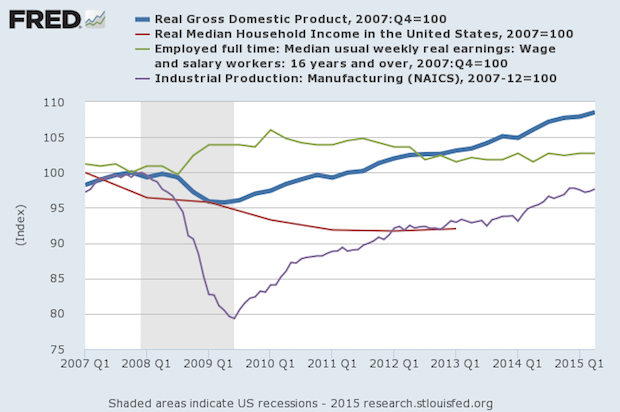 Key Indicators that Have Not Improved Since the Recession and Recovery
Published: August 14, 2015
There are numerous data series that explain that the economy has never recovered from the recession. These are not obscure data series, but mainstream ones. Gross Domestic Product should be the standard for determining the status of an economy (thick blue line). Movements in GDP should be confirmed by other measures. This week's chart uses the start of the recession, December 2007, as the base, which is 100.