Dr. Joe's Comments: Recession, Buybacks, and Windows for Warriors
By Dr. Joe Webb
Published: February 18, 2016
Is the Recession Threat Already Gone?
This past week or so has had more stable markets, with a sense that the precipitous declines have passed. Very interesting is that the forecast of GDP for the first quarter of 2015 has been increasing with each data release, and is now higher than expert consensus. The Atlanta Fed's GDPNow estimate is already up to +2.6% (as of February 17's report), rebounding from a bad GDP report for the fourth quarter of 2015. There's a lot more data to go – the GDPNow forecast will be changed with every data release for the next 90 or so days. For now, this makes the bad fourth quarter look like a "one-off" event.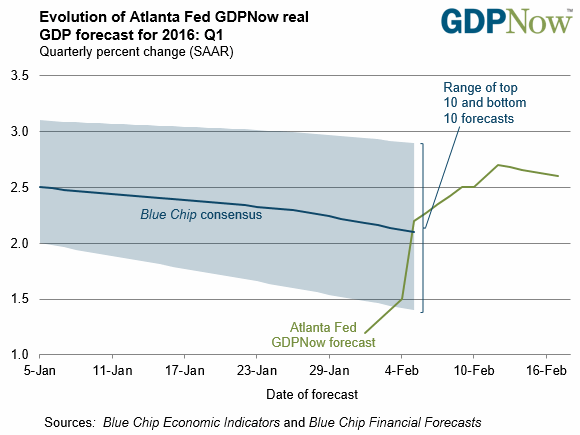 The economy is not strong, and has not been, even since the recovery that started in mid-2009. It has had brief incidences of slight contraction or near-zero growth, always "corrected" in the next quarter.
There is no strong growth on the horizon, and the sluggishness will continue. The economy is still well off its post-WW2 +3.4% growth rate. But a deep and sudden recession remains unlikely.
I've been watching for some expert analysis that there are problems with the seasonal adjustment factors used in the calculation of GDP. I have not seen many comments like that recently. There is a possibility based on some of the articles I saw about a year ago, that the fine-tuning of seasonal and inflation adjustments being used are not so fine and not so tuned. We'll know in July when GDP revisions for a few years data are released.
Buybacks
Stock buybacks are one of my pet peeves, and the recent collapse of stock prices brought the topic up yet again. An article in MarketWatch explored the problem. It's worth reading and has some great charts. One of the experts quoted in the piece tracks insider buying and said "It behooves people not to look at buybacks as some kind of magic bullet to put a floor under the stock... At the end of the day, the market will typically reward companies that run their businesses well." Pay the money out in dividends so owners can decide on their own what they do with their money. The discipline of dividend payments is more likely to keep companies on the right track and is an incentive to invest capital in profits-producing activities. Buybacks are a coward's way out from hard decisions.
Road Warrior
Over the years, some readers have enjoyed my comments about computing and traveling. Here are some that might be of interest.
Windows 10 has been interesting. It is a free upgrade, and the reviews have been good. My Windows 7 computer had been getting sluggish, so when some of the usual fixes did not work, I figured I'd give Windows 10 a try. The upgrade process was flawless, and the system is running better than it has in months. This was especially true for Office 2016; performance had been horrid for that in Windows 7, but none of the other programs performed well, either. Windows 10 seems to have solved all of those problems without intrusion into personal settings for preferences that I had tweaked in the last three years.
I did add Classic Shell to give me a more familiar desktop and start configuration. That free add-on became popular when Microsoft issued Windows 8 with no start button. Even though Microsoft gave it back in service updates to Windows 8, which stopped frustrating users who relied on it being there until the Windows 8 release. Classic Shell has other features and has been improving its free offering with a many personalization possibilities. All of my programs and all of my files are working just fine.
I did not have such positive experiences with other computers. My Lenovo notebook will not upgrade: the Windows 10 upgrade plan determines whether or not it is available for your system. When Microsoft wants to roll it out to your computer, it will, and no sooner. The HP notebook that Mrs. W uses downloaded Windows 10 but the install failed, but it recovered (by itself) and restored Windows 8. It was a horrifying process with a blank screen and a spinning little blue disc, so you couldn't determine if the system was updating, recovering, or locked up. After all these years (decades?), you'd think delivering some indication of system status would be better.
The Windows 10 verdict so far is that it's great when you can get it to load. If your system is working fine, save it for when you buy a new computer.
On another matter, I've been reading about how publishers and Ad Block Plus might be coming to the table to declare a truce. My browser on my main desktop is Chrome, which I switched to when Firefox' became marred by what seemed to be a record-setting pace for lockups and crashes. It's strange how one browser will be just awful on one computer and a speed demon on another. I have a multimedia computer where Firefox is still going strong.
Recently my Chrome browser started to misbehave. I read enough articles about how publishers are incensed about the use of ad blockers, so I thought I would try it. The big problem appeared to occur when I was using Yahoo Mail. I suspected that it was their ads that were causing them. Installing Ad Block Plus tamed the problems: the ads in Yahoo Mail were locking things up.
What's happened to Yahoo Mail? The search feature can't even find recent mail where I type three or four words exactly as they appear on a hard copy. This all happened after a recent Yahoo Mail "upgrade." Yahoo Mail was always a second tier product, but it was always reliable despite the problems. Attempts to contact customer support have been ineffective. They keep referring me to forums or support pages that don't apply and had found by myself. Yahoo was a key shaper of the consumer Internet experience. It's sad to see that slip away. Maybe Marissa Mayer should let people start working at home again.