Commentary & Analysis
Driving Business Growth: How Techniprint Re-Invented Its Business
Phoenix-based Techniprint needed to adjust its business to account for a growing trend to digitally distribute document sets for architectural and construction projects rather than printing a large number of copies of these sets. Adding two HP PageWide XL 8000 wide format printers to its business resulted in a 25% increase in revenues in the first six months.
By Cary Sherburne
Published: October 17, 2017
Techniprint, a full-service reprographics facility, has been serving Phoenix-area print customers since 1947 and has been at the same location for more than 25 years. Techniprint has always been a place where customer service and customer satisfaction stand firm as its number one priority regardless of how big or small the job is.
"There has been a great deal of change in our industry," said Rick Jackson, Production Manager. "Before the recession, we had daily orders for 50 to 100 copies of large document sets related to architectural and construction projects. That content has largely gone to tablets now. This drove us to establish a division we are calling Big Color, and to add color capability to augment our reprographics business, which was basically all black & white printing."
Techniprint's Big Color division has a full range of HP wide format printers, including three HP Latex printers, an HP Designjet Z6100 roll-fed aqueous inkjet printer, two HP Scitex flatbed printers and an HP Scitex XP2700 UV inkjet printer. "We have had excellent experience with our Big Color fleet," Jackson added. "So we turned to our local dealer to determine how to best reinvent our reprographics group."
After due diligence, Techniprint chose to install two HP PageWide XL 8000 roll-fed printers to replace its two existing black & white printers. Their print speed of up to 75 feet per minute and HP PageWide XL pigment ink have resulted in higher quality print, the ability to intermix color and black & white pages in the same job, and significantly increased capacity. "Not only did this allow us to deliver print faster to our customers," Jackson commented, "but it also opened the door to some new applications that have proven popular and profitable."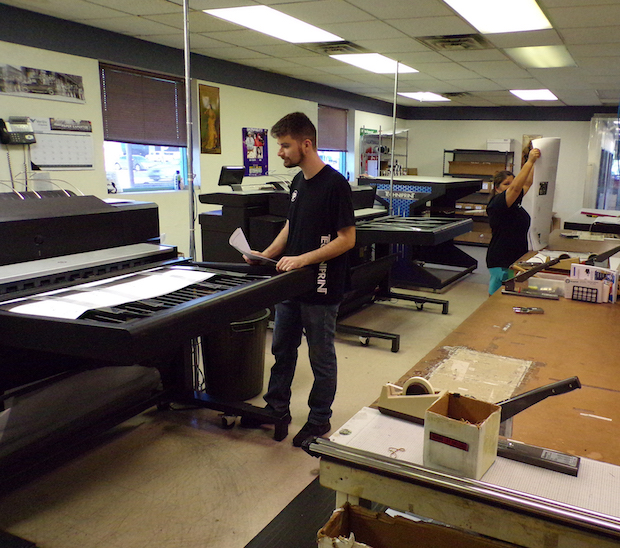 Techniprint Engineering Department; Armida Arispe and Peter Knopp at work with the HP Pagewide XL 8000 Printer
In Techniprint's Big Color business, the company serves both direct customers and trade customers, with trade work representing about 35% of its business. "We partner with local printers who don't have this type of equipment so they don't have to turn customers away," Jackson said. "We've also been able to leverage those relationships with our new PageWide XL printers."
One application that has been a boon for the company and its customers is the ability to produce posters at a very competitive price. "This is the least expensive way for customers to acquire posters," Jackson stated. "They have a choice of using our high-end Big Color printers or the PageWide XL 8000 Printer for posters, giving them options they didn't have before. Customers are very happy with the poster quality the PageWide XL 8000 Printers deliver, and delighted with the price point. In addition, we can give them very fast turnaround for posters and other output, which also makes them happy. We increased our revenues for our reprographics business by 25% in the first six months after the Pagewide 8000 XLs were installed!"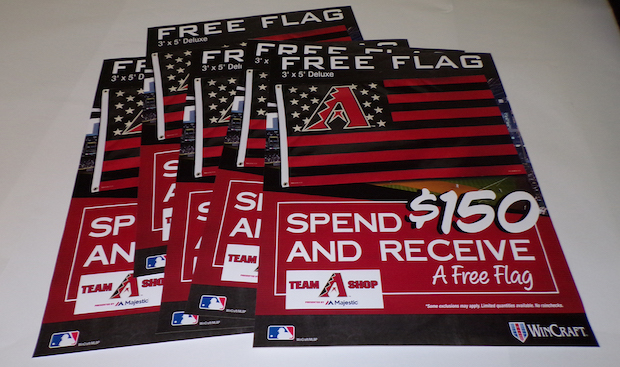 Example of posters produced on the HP Pagewide XL 8000 Printer
Jackson is also looking forward to introducing more color into its reprographics printing business. "There is some market education that needs to be done," he said, "to dispel the myth that color is too expensive. In addition, we think that by offering color, we will be able to significantly expand our Architecture, Engineering and Construction (AEC) customer base over time. We're doing test prints for customers to show them how providing color sets for their proposals and submittals won't break the bank."
Jackson is also thrilled with the reliability of his HP PageWide XL printers. "Our previous printers were very high maintenance. It seemed that their technicians were on site all the time. We've found the HP PageWide XL 8000's to be very reliable; we hardly know the HP technician's name! You can't put a dollar figure on that much reduction in downtime. It's a huge difference for us."
Jackson was also very happy with the sales process. "To be honest with you," he said, "we didn't believe what they told us these printers could do, but they have truly lived up to the promises. We have not regretted our decision for even a second."