Commentary & Analysis
New EFI Fiery FS300 Pro: A Platform for the Next Decade
Today EFI announced a new Fiery platform. The company reports that digital front ends (DFEs) based on the EFI Fiery FS300 Pro platform will drive presses across sheetfed, high-speed continuous feed, B1 folding carton, and corrugated digital production systems. This is perhaps the most aggressive Fiery release in some time and is being described as the platform for the next decade.
By Cary Sherburne
Published: September 11, 2017
As Print 2017 kicks off at McCormick Place in Chicago, EFI is announcing a new Fiery platform, recipient of a 'Must See' award. The first OEM partner to make the new platform commercially available is Xerox, as the EX P-5 Print Server, Powered by Fiery, driving the new Xerox iGen5 with White Dry Ink. Other EFI OEM partners are already working with the company to bring their own FS300 Pro DFEs to market. I was able to speak to the Fiery team on Friday to get all of the details and find out why this release is different, and why now.
Based on my conversation, there is no doubt the Fiery team is very excited about the FS300 Pro platform, and with good reason. According to Toby Weiss, senior vice president and general manager of EFI's Fiery business, "This release of technology is all about the users. We have redesigned and innovated in almost every single touch point the user has with Fiery. This includes everything from the furniture and screens to making the configuration process very easy. For us, this was a doubling down for our users, giving them a platform they can leverage now and for the next decade. That doesn't mean we are resting on our laurels – we are already working on the next enhancements. But users now are at a point where they want to be able to see massive gains in productivity, performance, usability and integration, and it is critical that we deliver against that."
The new Fiery furniture is a good example of this improvement in usability.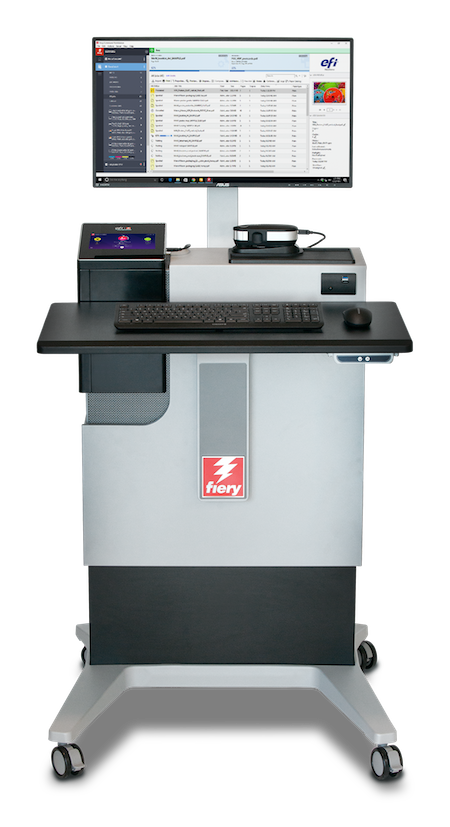 There is more work room on the desk, an integrated spectrophotometer, and an adjustable 27" screen that has a proximity sensor. The proximity sensor changes the view on the screen depending on where the operator is. When the operator is away, a status screen appears so status can be viewed from a distance. As the operator approaches, the screen view shifts back to the Home view, a new view in Command WorkStation 6 that provides at-a-glance status of all connected Fiery servers and a snapshot of key print production statistics.
Another new feature is the Fiery QuickTouch, shown above and slightly to the left of the keyboard in the image above. This is a unique 7-inch touchscreen display, with Fiery QuickTouch software, powered by Android, that provides fast views of job status information and access to server management.
More computing power is also available with the FS300 Pro platform. Weiss added, "The trend in production printing is to have more pixels in the output, plus we have been asked to drive very high-speed presses such as the Xerox Trivor 2400, Landa's Nanographic presses (including the Komori version, the Impremia NS40), our own Nozomi, and more. There is a need to continue to drive high performance, and that meant adding support to leverage our multi-core HyperRIP capability on every job. At the high end, tests show that this is 55% faster than previous versions. And the new design also allows us to have a blade-based architecture to support very high speeds in the industrial market."
Weiss also points out that Fiery drives the company's VUTEk and Reggiani printers as well, that also require moving large amounts of data at very high speeds.
There are multiple ways users can gain access to these new capabilities. The most obvious is when they invest in a new Fiery-driven press that includes this new hardware/software combination. But Weiss reports that many of the new features are available by simply downloading Command Workstation 6, a free download for Fiery customers that is backward compatible with the last four major Fiery versions. More than 40,000 customers have already done so. Users can also check with their press manufacturer to find out when the FS300 Pro platform will be available for their existing presses. If a new press investment is not on the horizon, EFI has made Fiery updates easier as well, as OEMs begin those roll-outs. Weiss stated, "Users will get a notification that makes it easy for them to get the latest and greatest updates as soon as they become available."
Updates will also add new features to Fiery client software, such as Impose, Compose and JobFlow. This includes improvements to the way jobs are ganged or imposed, page rotation, creation of variable data booklets and more. When a new press driven by Fiery FS300 Pro is purchased, users will receive the full range of the current level of hardware and software, including the new furniture.
"This update is totally user focused," Weiss stated. "To that end, we have also made all our learning resources available at no charge. We want users to use all of the new features, so if they are a current Fiery customer, they can find a tremendous array of educational material with a single click from Command Workstation."
Weiss also reported that the FS300 Pro platform is the platform that that will allow management of both Fiery and Fiery XF (for grand format) from a single Command Workstation interface. "What is coming in the roadmap," he said, "is the ability to see Fiery wide format, high speed continuous feed, cut sheet – all Fiery-driven presses in the organization – from the Home screen. In addition, there is a status bar at the top that shows what is actually running, and we have added a Search feature, since now the number of jobs and presses displayed can be quite large. We are aiming for the first quarter of 2018 for this next milestone on our roadmap."
Attendees at fall shows, including Print 2017, and at EFI Connect scheduled for 23-26 January 2018 at The Wynn in Las Vegas, will be able to see all of these new features live, and be able to speak with Fiery experts about the roadmap, as well as how they can begin taking advantage of these new opportunities.