Commentary & Analysis
First Look at Canon's Océ ProStream Platform
In this article, David Zwang looks at Canon's new Océ ProStream series production inkjet offering introduced in advance of Hunkeler Innovationdays 2017. The ProStream is a continuous feed production inkjet system targeting the mid-to-high volume commercial printing market. The device leverages Océ technology from its previous continuous feed systems as well as the its sheetfed Océ VarioPrint i300 and introduces new polymer ink set.
By David Zwang
Published: February 20, 2017
Related: Video Interview Crit Driessen on Canon's Launch of the Océ ProStream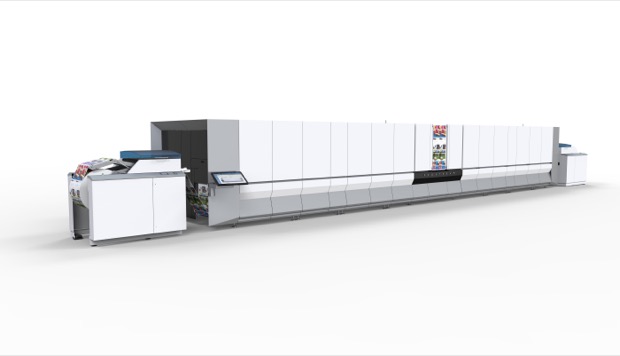 Canon Océ ProStream. Source: Canon
Hunkeler is usually an event where many companies introduce new technologies and products. It isn't anything like drupa, considering size, length of show and booth setup, but it is a focused event that has seen some very interesting introductions. It is also unique in that the production lines featured at the show are multivendor lines that demonstrate a complete end-to-end solution.
One of new announcements at the 2017 event is the new Canon Océ ProStream production inkjet press. In development for more than three years, Canon has used the knowledge obtained through its existing continuous feed and sheetfed production inkjet products, along with market intelligence the company has developed, to bring this new press platform to fruition. The goal was the ability to produce high quality, high coverage print on conventional coated and uncoated offset media. The newly introduced press is not just another variation of one of Canon's existing inkjet products; rather, it is a completely new design incorporating selected technologies from both the sheetfed VarioPrint i300 and the ColorStream 6000 Chroma.
Technology Demonstration Video. Source: Canon.
Imaging
ProStream imaging starts with the use of Kyocera KJ4 piezo electric drop on demand print heads. These 1200 dpi and 1200 npi (dots per inch and nozzles per inch, respectively) have a firing frequency of 64 kHz currently producing multilevel drop sizes of 2 and 5.6 picoliter drops. To address the higher temperatures of the new heads, Canon introduced a print head cooling system that allows the heads to maintain a <32°C temperature to reduce risk of ink drying in the nozzles. This creates more stable jetting over print width and time.
The print heads also support the Pre-Fire technology introduced with the ColorStream 6000 Chroma. Pre-Fire is a technology that recirculates ink inside the printing head anytime it isn't ejecting ink. It ensures consistent droplet size and positioning, by both 'exercising' the head and minimizing ink waste. The ProStream also includes Océ HeadSafe technology that enables switching between mono and full color printing.
To enable printing on conventional offset media, the press uses ColorGrip, which is a bonding agent that was introduced with the sheetfed i300. Unlike the i300 which uses print heads to apply ColorGrip as a spot coating where ink will be laid down, the ProStream uses ColorGrip to flood coat the media. Using ColorGrip this way minimizes paper curl and helps humidify the print gap climate to help inhibit the ink drying in the nozzles. It also enhances print quality by producing more vibrant colors; less feathering, mottling and strike-through on uncoated media; and less color-to-color bleed and coalescence on coated media. The system currently identifies any clogged nozzles, but doesn't redirect print to other nozzles at this point. However, the advanced imaging technologies utilized in the press should minimize that need.
With this press, Canon is also introducing a new water based, higher pigment polymer ink set that exceeds the offset gamut of FOGRA 51. While Canon has yet to define the size of gamut increase, it will undoubtedly mean that the inks will support a wider range of Pantone colors. This new imaging system allows the ProStream to support up to a recommended 350% ink coverage on coated media. The new polymer ink was designed to form a "glue layer" which keeps the pigment closer to the surface and helps create the larger gamut and better bonding of the pigment to the media, giving it better rub resistance. The samples I saw were impressive in their detail and the smoothness of solids.
Transport
The press has a modular engine design currently operating at 262 ft/min. It supports a print width of 21.25 in, and a paper width of 22.25 in. Canon is currently building its certified media list for the press; currently the press can support weights up to 104 gsm (70 lb. cover). It has a duty cycle of up to 37 million letter sized impressions per month. The ProStream will initially be available in a flexible in-line simplex or duplex twin configuration, but other configuration options will be available in the future.
The paper path includes a new 'Flotation Dryer'. The paper does not touch any surface in the dryer unit. During this process, the paper is kept at temperatures not to exceed 130 °C to provide consistent drying of all colors and over the entire paper width, also avoiding cockle. Through the use of active cooling before the paper exits the press, the printed image is stabilized and paper stress is reduced. The paper exits the press at a maximum of 60 °C. While not introduced or validated yet, this new dryer system should support heavier weight papers up to about 270 gsm(100 lb. cover) sometime in 2018.
To minimize environmental impact, the ink solvent exhaust is cooled to condense and collect it. The heat in the system is also recirculated, reducing power usage and ambient heat exhaust.
Digital Front End
With this introduction, in addition to the SRA MP controller, Canon has also introduced PRISMAcontrol, a new workflow system. While in the past PRISMA based workflow solutions have been centered around AFP and IPDS to support the requirements of transactional printing, this new solution is native PDF and JDF based to support the workflow requirements for direct mail and commercial printing. The browser-based touch screen DFE includes printer job and paper settings management, along with production queue control at the printer. The ink can be adjusted at either the DFE or the press controller. The DFE will supports native PDF editing and modification. It is expected that Canon will support 'un-tethered' DFE operation in the future, allowing control of the DFE from a mobile device.
Conclusion
Canon has a leading position in production inkjet globally, and with this new press platform, the company now has multiple press platforms that can support a broad range of applications. The ProStream is evidence that Canon continues to innovate and develop new products. In an effort to speed that development, its production print design and manufacturing business units have been reorganized for more streamlined communications and operations. Historically each of these business units, including sheetfed, continuous feed, wide format, and software development, was managed independently, limiting the benefit of a more connected cross-unit collaboration. The new Production Print Products (PPP) organization is specifically designed to foster the type of collaboration that helped bring the new ProStream platform to the market in a more timely fashion. With this reorganization, we can expect to see lots of new and innovative developments in the future.
Canon has already sold six ProStream presses, with the first installation scheduled for July 2017, and is anticipating selling up to 25 total presses before the end of 2017. The 2018 sales target is 100 presses.
To prepare you for an investigation into a production inkjet acquisition, you will likely find it helpful to review the original production inkjet and workflow series we ran on WhatTheyThink as a refresher. It not only covers the vendors and machines that have made it to market, but also the driving technology, requirements and impediments.