Economics & Research Blog
2014 US Commercial Printing Rebounds from Poor First Half with Positive Third and Fourth Quarters
The US commercial printing industry rebounded from a poor start to 2014,
By Dr. Joe Webb
Published: February 4, 2015
The US commercial printing industry rebounded from a poor start to 2014, finishing nearly even with 2013, up +0.2% in current dollars, at $77.8 billion. Decembers shipments were strong, up +3.7% compared to 2013. It was the first positive December since 2010. At that time, however, current shipments were more that $7 billion; December 2014 shipments were nearly $6.52 billion. On an inflation-adjusted basis, shipments for the year were $77.1 billion, down -$1.15 billion (-1.5%) compared to 2013. Nearly all of the turnaround of 2014 was in the fourth quarter. First quarter inflation-adjusted shipments were down -5.2%, with second quarter shipments at -2.7%. The situation turned mildly positive in the third quarter, with a +0.4% rise. The fourth quarter was up +1.6% compared to 2013. (click chart to enlarge)
Some of the rebound in the fourth quarter may have been the benefit of highly contentious local and regional political campaigns. The extent of that effect may not be known for some time, but the strong December shipments implies that local retail and holiday shopping promotions may have played a significant positive role. Recent economic reports state that small businesses, overall, had a much better fourth quarter. These were from the
NFIB
survey, and two Gallup surveys, one conducted with
Sam's Club
and the other with
Wells Fargo
, as well as an increase in
proprietor's income in the recent GDP report
. It is unlikely that this is a bottoming-out trend of industry shipments patterns, but a marked slowdown in the decline of real shipments. It is likely it is a sideways pause before another shift in media implementation. Recent news about cost reductions in data plans for smartphones and broadening implementation of higher speed broadband products such as Google Fiber will probably result in shifts in media use as they have in the past. Recent analyses of media implementation indicate concern that some of the digital approaches may not be as effective when computer, tablet and smartphone screens are becoming cluttered with severe competition for viewing time. Also, many print businesses are focusing on other offerings, such as the numerous applications of wide format imaging. There are many print businesses delivering strong and impressive financial results while others that have not been unable to adapt exit the business by choice or by force. (Note
last week's analysis
regarding changes in the number of establishments). Again, we remind readers that aggregate industry shipment data trends are not the certain destinies of all print businesses. Processes and product offerings are changing as market demands require. Getting ahead of those changes is essential. A slowdown in industry contraction, and even short-term increases, should be viewed as breathing room for thoughtful business re-configuration for the future. * * * The chart below (click to enlarge) shows shipments on a current dollar and inflation-adjusted basis for 1995, 2000, 2005, 2008, 2010, and 2012 to 2014.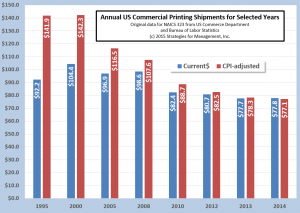 * * * NOTE: December data will have a slight revision by Commerce Department statisticians next month, but revisions for 2014 and the prior two years will be made in mid-May. Those always have the potential to be large. The Department usually revises three years back (in this case, 2012 through 2014), and adjusts statistical seasonality (patterns of monthly shipments) for another two years back. # # #