Economics & Research Blog
Since 2004, USPS Prices +38%, Consumer Prices +27%, Printing Prices +13%, Computers -44%, Wireless Communications -37%; What's It All Mean?
The Bureau of Labor Statistics has reported inflation levels for 2014,
By Dr. Joe Webb
Published: January 19, 2015
The Bureau of Labor Statistics has reported inflation levels for 2014, and the data show the divergence of digital and hard media in a very stark manner. The Consumer Price Index (CPI) was up 0.8% for 2014, cooling off at the end of the year with the drop in energy prices. (A separate analysis of the CPI and
what it means to printers is available
). The chart below shows the relationship of the CPI and the Producer Price Index (PPI) for the US Postal Service, computers, and wireless communication, and commercial printing. The USPS pricing is running higher than the CPI, and printing prices are lagging. That means, strangely enough, that printing is getting cheaper every day, because those price increases are half the rate of the increase in CPI. It also means that USPS prices "crowd out" other resources in mail project budgets, placing downward pressure on print prices, as well as pushing down run lengths, page counts, sizes, and frequencies. The gap between wireless communications and USPS inflation widened a lot. USPS went up +5.37% last year, and wireless communications dropped -3.69%. That's a 9.5 percentage point gap! In response to T-Mobile and Sprint, AT&T is now letting users bank their unused data plan amounts. This will send effective communications prices down further as customers who occasionally go over their limits will no longer pay high fees for those overages. And, these kinds of plans only encourage further reliance on digital media and information access. Last year, computer prices fell -1.79% (which is very small for that category). and commercial printing prices were up +0.53%, still lagging inflation. The data since 2004 are below  (click chart to enlarge).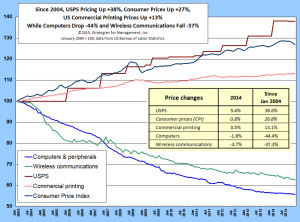 What does this mean? Postal prices (no matter what happens with the upcoming Postal Regulatory Commission rulings) will continue to be out of step with their media competitors. This creates important strategic considerations for all businesses that are involved with the mail. Some printing companies will choose to de-emphasize mail-based products in favor of other types of print, such as signage, event graphics, packaging, and other opportunities. This is also a good reason to pursue digital media production as well as media management ("communications logistics," as discussed in
Disrupting the Future
and other places). Mail-focused printers will be challenged, of course, but have compelling reasons to discuss mail strategy with their clients with the message that clean and up-to-date data bases have significant benefits. The cost of mis-mailing is higher than ever. Mailings that encourage future use of digital media for interactions and contacts save client money in the long run. Using the mail to increase effective use of digital media may seem like a paradox that will only undermine the value of print and future print revenues. But using mail in this manner has a measurable ROI to the client, and the demonstration of interest in the client's media ROI, and the skillful design and implementation of integrated media approaches, increases the value of the total business relationship in the long term. If this strategy is used, be sure to have data base maintenance and analytics skills necessary to make such a strategy effective for your business. If you're just in the "mechanics of mailing" business, your business is threatened by those businesses that understand the importance of client data. A business partnership based on the data has a greater value. In an environment where USPS actions are counterproductive to print media, it also means that understanding of postal regulations and processes is a competitive advantage. Those regulations offer prime opportunities to advise print buyers, advertising agencies, designers, and other content creators of the "best ways" to ensure that they spend the least amount possible on postage to meet their objectives. Mailing regulations and pricing schemes will remain complex to the uninitiated, and may become yet more so. The answer is not always smaller sizes, reduced page counts, shorter run lengths or less frequency: there are other costs such as management and mis-mailings that may cost more in the long run that are outside of the print budget. Understanding those other costs can differentiate a "just another vendor" from a "trusted partner." Bring agility to the mailing process. Many large corporations are implementing agile marketing structures that focus on series of smaller projects. There is a move away from the tyranny of the annual calendar and budget cycle to regard marketing and communication actions in a continuous flow of activities. This allows clients to constantly test and learn as much as possible about their clients and prospects as quickly as they can. This means that they are looking to find ways to touch the marketplace often and in small batches with greater returns. Those returns are not always monetary. Rather than short-term money, they are often seeking data and analytics that can drive other actions. Those decisions may lead them to use other media beyond print. That is, a print initiative is a step toward a different communications action. This makes it essential to go back to the old saw (at least old for those who have been reading my writings in WhatTheyThink since 2003), that it's more important to know why people print than it is to know what is printed. Being plugged in to the media and communications of clients means that you can be more creative in your approach to them. Don't make a request for bid the first time you learn about a job. The USPS price situation creates ongoing challenges and opportunities. Their financial situation is little concern to an individual printer from a strategic perspective. It's the cost of USPS services compared to its competitors at the single moment in time a client is making a media decision that is of concern. If mail services are part of your business' strategy focus on the other costs of the use of mail from the perspective of the client. Don't get caught up in the USPS drama; it only diverts attention from client ROI. # # #