Economics & Research Blog
Dr. Joe Rambles About Marketing, Printed Electronics, Staples, and Retail Sales
The CMO Council has released its State of Marketing 2014 report,
By Dr. Joe Webb
Published: August 21, 2014
The CMO Council has released its
State of Marketing 2014 report
, and here are some highlights from the executive summary; I have identified some key phrases in italics:
more than half of marketers pointed to their effectiveness in uplifting digital marketing capabilities and improving engagement with customers online
nearly 60 percent of chief marketers list "digital marketing makeover" (involving platforms, programs and people) as the number one transformational project in the year ahead
top areas of investment in the next year include email marketing, website performance optimization, mobile applications, lead management, website design and development, and search marketing
improved efficiency and campaign effectiveness is cited as the top reason for deploying new digital solutions and cloud-based services
strategic areas for marketers over the next 12 months include new product or program launches; corporate branding and identity building; and lead generation and qualification
44 percent of marketers will be investing in customer retention and monetization, which is more efficient and profitable than subsidizing new customer acquisition
63 percent of marketers plan to maximize the impact and value of marketing through improved customer segmentation and targeting
most are struggling with an increasing number of digital marketing solutions, touchpoints and silos of digital data
the most effective ways to brand and generate demand in their market, nearly 50 percent of respondents listed search-optimized website marketing, as well as events and trade shows
42 percent saw the most value in social media interaction and engagement. These eclipsed traditional print and broadcast media and were well ahead of mobile search and mobile advertising
What does it all mean? CMOs are looking to squeeze every bit of efficiency out of every dollar they spend. There's a problem: the tools are changing and the media are changing at the same time they're trying to make decisions. On top of that, their experience with the old tools does not help them use their new tools. They're also figuring out how to directly engage with individual consumers while supporting their brands and corporate image.
They need help. We know that the effectiveness of all specific communications formats are down, but the total response or multiple media combinations are generally up. Multichannel/cross-media/omnichannel (whatever the favorite word of the day is) are difficult. One thing is clear: if you want to direct your audience to one place, such as an e-commerce site, you have to touch that audience in many different ways.  If a printer can position print interventions to those who are not responding to the other media initiatives, then it can have a significant role in marketers plans.
Also, notice that events and trade shows are still important (this does not mean that the scale or frequency of their participation is the same as it used to be). These kinds of events have to be promoted and managed. I have met some printers who have created a nice business of event graphics, event materials, and also small event management (such as handling registration desks).
Marketers are cash constrained, for certain, but they are time-constrained to an even greater degree. Working with skilled experts solves many of the modern marketer's problems.
* * *
RR Donnelley has been active in printed electronics (see their web page), and their activities were noted in the Wall Street Journal CIO blog and also as a short article "Can 150-Year-Old Printer Go High Tech?". The company has been trying to diversify beyond print for some time, and has preserved its print volume mainly by acquisitions.
CEO Thomas J. Quinlan III is looking to further diversify beyond ink-on-paper printing revenue, which accounts for about 24% of sales, down from 70% in 2000. The company began looking for new lines of business to supplement its core printing operations about five years ago, placing a bet on the emerging field of printed electronics, a broad term for a range of technologies in which printers manufacture components by depositing layers of electrically conductive ink to a precise thickness.
The research is being done at the Grand Island, NY facility that was originally part of Moore Business Forms, which RRD acquired in 2003.
The first products based on the research, antennas for RFID and NFC tags, went into production earlier this year at a Donnelley printing plant in St. Charles, Ill. NFC and RFID tags can be embedded in packing labels, stickers and tags the size of credit cards that can be loaded with digital information and then read by smartphones or other devices via short-range wireless networks. Sensors in such labels and tags can collect information as well.
There has been great interest in printed electronics for a few years now, with products such as printed antennas and RFID products. This is print in its most generic form, the applications of chemicals to a substrate. I've always been concerned that the phrase "printed electronics" is misleading, making it seem that any printing company might be able to get involved easily. The story about RRD shows the amount of investment and research that needs to be done to develop these products, and to commercialize them. In the process, RRD gets into a marketplace with many new competitors. Perhaps the technologies developed there might become available to the industry at large, but it seems that would be years away. RRD's future revenue streams might not be in the printing of electronics but in the licensing of the technologies they develop. While printing of some kind of electronics might be technically possible, the company still needs to develop and market product offerings that have worthwhile commercial applications.
Let's remember that printing as a process and printing as a business are often two totally different things.
(Note: the WSJ links require a subscription)
* * * Retail sales adjusted for the Consumer Price Index have contracted six of the last seven months. Some analysts have suggested that this indicates a move into recession. Many of the GDP forecasts that have been bandied about seem way too optimistic in light of data series like these. They're likely to be pulled back into the 2.5% range eventually. (click chart to enlarge)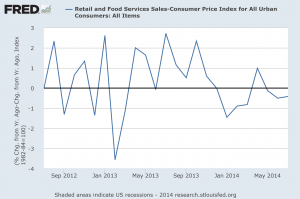 We get a revision of Q2-2014 GDP at the end of next week. It's expected to be revised down slightly from the 4% initial report, which was a significant turnaround (or better described as a "catch-up") from the -2.1% of Q1. * * * Office superstore Staples has been having a tough time of late, closing stores, shrinking remaining ones when they can, and emphasizing online sales. I used to be in Staples once a week, and bought at least one carton of paper every month. I think we used five reams in the last year in our modest office. They plan to close 140 stores this year (
click for Bloomberg's report
). * * * Staples was also in the news because the pilot program with the USPS to sell postal services in the store. The postal unions were not pleased, and recruited teachers unions to boycott Staples for school supplies. The pressure was too much (
Reuters report
). Also in the news was that
half of the Senate
asked for a moratorium on planned USPS facility closures. It's yet another reminder that the USPS is not a real business because it's not in charge of its marketing mix. When you look at the 4 p's (product, price, promotion, and place), they are greatly constrained by law or political influence, making management as effective as referees in TV wrestling. It's limited in the products it can investigate and offer, prices are approved by others, promotion highly questioned and scrutinized (especially after the Lance Armstrong incident played out so badly), and little control over distribution investments and divestitures. * * * The USPS is investigating getting into 3D printing (see the story
in the Atlantic
). Amazon.com has
set up a 3D store
that sells personalized goods mainly based on a template approach. UPS is testing it in
some of its retail stores
(the company
issued a press release
about a printed putter for golf pro Lee Westwood). To me, the most amazing aspect of 3D printing is how it can be
used in medical applications
. * * * The National Employment Law Project has an interesting report about how
real wages have changed
since the recovery. * * * Richard Romano, my co-author for
Disrupting the Future
and other books,
has written about our new book
,
This Point Forward.
Pre-publication copies have been sent to reviewers , and the response has been very enthusiastic. Hard copies will be available at GraphExpo, courtesy of Kodak and Veritiv. The book will also be available through Amazon. WhatTheyThink is seeking a sponsor for free downloads of the book.
Disrupting
is likely the widest circulated book about the printing industry when you count the number of sponsored hard copies, hard copy sales, and free downloads. We've had readers around the world. (My favorite story is about the US print VP who was told to read the book by a fellow VP from their China plant). Versions of
Disrupting 
became available in Japanese and Portuguese. There will be a free webinar about the book on September 17. Details forthcoming. For in-company and event presentations based on the book, please contact
Ms. Cary Sherburne
for details. # # #