Economics & Research Blog
Recovery Indicators Improve, Unemployment Report Better
The recovery indicators were mainly better this month,
By Dr. Joe Webb
Published: July 3, 2014
The recovery indicators were mainly better this month, with the NASDAQ bouncing around then finishing well, and three of the four ISM indicators increasing. The one that didn't is still firmly in expansion territory. The original estimate of proprietors' income was $1,371 then it was reduced to $1,366 billion and now it's $1,359. (click chart to enlarge)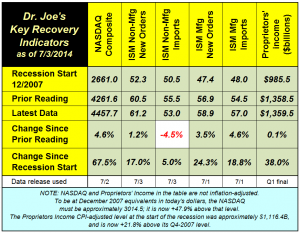 There's enough conflicting economic data recently that the case for more muted and muddled growth, something we've been quite used to, is still the best bet. It is likely that the first quarter's bad GDP report (-2.9%) will be a one-off event. Popular full-year economic forecasts are likely to be reeled in, yet again, because such a tough quarter is hard to bounce back from just from an arithmetic standpoint, and the economy still has some notable problems. The latest unemployment report is a good example of that. The headline numbers were just marvelous. The unemployment rate falling to 6.1% and the addition of +288,000 payroll jobs, and the prior month's employment being revised upward. Even the household survey was up +400,000. There are still some headwinds and some historical perspective required.
The number of workers that no longer in the labor force was +111,000
The number of part time workers for economic reasons increased by +275,000, almost the same size as the payroll gain
The number of workers that are part time for "noneconomic" reasons was +880,000 (noneconomic means they prefer to work that way or they have an obligation that prevents them from working full time)
Weekly earnings are +2.3% compared to June13, but are only +0.2% after removing Consumer Price Index inflation
Compared to June 2013, the labor force is down -128,000; it should be growing just from a population standpoint
Those no longer in the labor force compared to June 2013 is up by +2.39 million; this includes retirees, disability claims, and those who have exited. There have been many reports from Social Security of workers claiming their benefits early (such as age 62) rather than full retirement (usually around 66 years at this time) because they cannot find work; record numbers of workers are on disability, mainly for similar reasons, and many long-term unemployed just leave the workforce.
One bright note: the number of employed workers compared to June 2013 is up +2.15 million
Another positive note: the labor participation rate in June 2013 was 63.5% compared to the current rate of 62.8%. This decline may have bottomed. since it has been at this level for a few months.
In a longer term perspective, civilian employment peaked in November 2007 at 146,595,000. Today's report shows employment at 145,814,000. That's short 781,000 workers, and that does not include population growth in the entire workforce. This remains the slowest post WW2 recovery. There are good chances that the unemployment rate may break below 6% next month, with another good headline report. Content creation employment on the advertising and promotion side is still positive, with advertising agency employment up +1.6% since last year. Public relations employment, benefitting from search engine, social media, and content marketing, is up +3.3% since last year. PR employment is part of total advertising employment. Periodical employment (mainly magazines) is down -5%. May employment in printing was revised slightly higher, and that may imply a small upward revision to the May printing shipments report. Overall, printing employment is down -5800 workers since June 2013. (click chart to enlarge)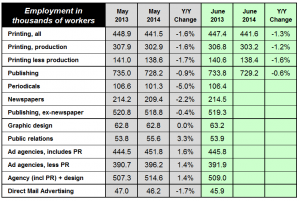 # # #