Economics & Research Blog
Ad Agency Revenues On Steady Rise Higher
By Dr. Joe Webb
Published: March 16, 2014
Well, so much for "content is king." Last year I wrote about the Commerce Department data about publishers and advertising agencies, and the trend hasn't changed.
In that blogpost
, I explained that if content was king, it was of "a small country." Since the second quarter of 2007, the first quarter for which we can create four-quarter inflation-adjusted moving totals, ad agency revenues are up more than 13%. The chart below shows that the publishing industries have note fared well at all. (click to enlarge)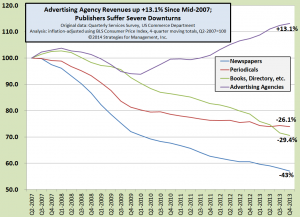 The decline in newspaper revenues is going on longer than this. For many years, non-dailies bucked the trend, but even those businesses are feeling the inroads of digital media. That encroachment was a long time in coming. It's likely, however, the the non-dailies will not feel the shock of a sudden decline. As far as the big dailies, their parent companies or owners usually have holdings in other media, such as cable television, that has served them well. Book and magazine publishers are still in a downward trend. For magazine publishers, the chart shows that the slope downward is less steep.
One aspect of the change in revenues is the shift to e-media of any kind. If a book sells for $20, but the e-book sells for $15, you could sell the same number of units, have less revenues, but more profits. We won't know the extent of that kind of product shift, for many years, as the shift to e-books seems to have fits and starts, and the period of co-existence of hard copy and digital media will be of long duration.
Book publishers get revenues from selling books. Newspapers and periodicals get the bulk of their revenues from advertising space. If those revenue streams are shrinking, then why are advertising agency revenues growing? The agencies have made the transition and added digital media advertising and social media engagement into their offerings. Often they have production departments for digital media and are earning revenues for that. As I mentioned in last year's blogpost, agencies have a smaller requirement for hard capital expenditures, so their fixed costs are not of the kind to limit their abilities to change direction with the marketplace. That benefits of that flexibility is clear since the bottom of the recession in mid-2009. The bottom of agency revenues occurred two quarters later, and since that time, they are up +23%.
# # #