Economics & Research Blog
The Claimed Explosion in Part Time Workers: Sorry, There's No "There" There
By Dr. Joe Webb
Published: July 9, 2013
Last week's unemployment report was not good, but it was not as bad as some portrayed it, and it definitely was not as good as some attempted to spin it. It still shows a sub-par economy with little incentive to expand. The adjustments to the nature of the workforce in light of the Affordable Care Act have been underway for some time. Claims about uncertainty have little sway in my mind; few businesses operate on tightropes, and when they do that means they are failing or near to it. Everybody knows that there will be a near doubling in health insurance costs in both direct (actual payments) and indirect (administrative costs) ways. If you're not planning that way, you haven't been paying attention since 2009. The chart below shows the percentage that part time workers represent of the total employed workforce for about the six decades. Note that this figure peaks at the end of a downturn (the grey bars are recessions). The percentage we have today is less than prior recessions but higher than recent ones. We have a bigger workforce today, so the numbers are big, but they must be viewed in relation to the workforce sizes of their time.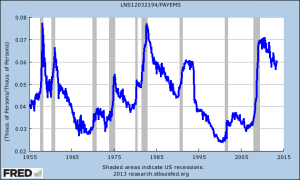 For some industries, the guidelines are clear, such as hospitality, which already relies on part time workers, most often as in the mutual interest of their employees looking for part time schedules, such as students, those who consider parental obligations as their primary vocation, and others who like the flexibility. The main bottleneck in moving from part time to full time work is when the ACA kicks in: 50 employees. Businesses are already striving to manage their workforces accordingly, and have been doing so for a while. The guidelines are particularly hard on new workers, who have to produce enough output value to pay for their costs or to increase the value of the output of others. An example would be in an old-style company mail room, where low-wage workers would sort mail and deliver it rather than having higher wage workers dig through bags of mail to find what was theirs. So aside from their own costs, the effects of workers on the output of others matters. Companies will have higher total employment costs per worker under the ACA when it is fully implemented, and the output of those workers will have to rise, or the wages of those workers will decrease or stagnate.  This has been a trend for more than a decade, anyway. More and more of the total payments to workers have included increased benefits costs, mainly attributed to the increases in medical costs (on average rising at twice the rate of inflation) and increased earnings thresholds for Social Security and Medicare taxes. This means that the trend of favoring inward-looking efficiency investments rather than expansionary investments will stay entrenched. Companies likely to benefit are those that relieve businesses of non-mainstream functions. Payroll services, like ADP and Paychex, will play important roles in helping companies manage their compliance costs. Cloud computing businesses will enable small and mid-size businesses to change the nature of information technology investments and the way they are managed. Also look for a new interest in "overseas" outsourcing. Overall, this is the summary of last week's employment report:
The economy remains slow, with a pace of hiring that is still well under the levels at the start of the recession in 2007.
Nearly all employment categories are higher than they were at this time last year.
Part time employment did rise, but is not outside of historical trends; the main source of concern should be overall economic activity and regulations that misdirect investment to administration rather than innovation in the output of new goods.
Wages remain stagnant.
More of the same to follow in the months ahead.
Employment reports are loaded with estimates and seasonal adjustments that are always under revision.  Don't get caught up in the latest report. Look for deeper trends.
# # #