Economics & Research Blog
Five Recovery Indicators Improve, One Plummets; Economic Side-step Continues
The recovery indicators still bounce along sideways with conflicting direction.
By Dr. Joe Webb
Published: July 3, 2013
The recovery indicators still bounce along sideways with conflicting direction. Overall, it was a good month, but it may not feel that way. The NASDAQ, despite rather amazing gyrations in the stock market, actually rose +1.2% for the month. (click chart to enlarge)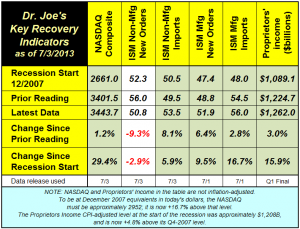 In the last 30 days, markets dealt with the comments of Ben Bernanke about the ending of quantitative easing, which created a lot of "sky is falling" hysteria in the bond pits, and mild hysteria among the equities cheerleaders, but everyone seemed to even out as we got to the end of June. End of quarter portfolio rebalancing and window-dressing was probably the underlying cause of the market mood swings. For a while, the "sell in May and go away" crowd looked like geniuses, but cooler heads prevailed as bargain hunters took over. Even when things seem to end up moving sideways, there are opportunities for those who see the wild swings as opportunities. There was other good news among the chaos. Three out fo the four figures from the Institute for Supply Management improved, some of them significantly. The quarterly report of proprietors' income had its final revision for Q1, revised down by $2 billion, but up +3% compared to the prior quarter. But then there's the ISM service industries new orders, which fell -9.3%, leaving it almost -3% compared to where it was at the start of the recession. This was quite a surprise, tempered by the index staying above 50, which is the breakeven level. The economy is still improving at a limping rate. The next important economic reading is the unemployment report of Friday, July 5. It is expected to show continued plodding increases in payroll employment that have characterized the recovery.