Economics & Research Blog
August 2012 US Commercial Printing Shipments Down -2.9% Compared to 2011
August 2012 US commercial printing shipments were $
By Dr. Joe Webb
Published: October 4, 2012
August 2012 US commercial printing shipments were $6.9 billion, down -$205 million (-2.9%) compared to 2011. On an inflation-adjusted basis, shipments were down -$325 million (-4.5%). For the first eight months of the year, shipments are down -2.1% in current dollars, and -4.1% after inflation adjustment. Our forecast models indicate that the year will finish at approximately $80.5 to $81.0 billion. It is more likely that the models are slightly high, and that the year will probably finish at approximately $79.5.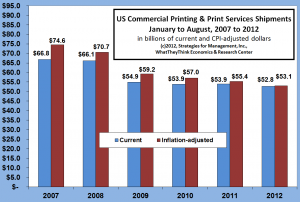 We will discuss these data, and the longer term forecast, at our Graph Expo breakfast on Monday morning. The event has a new sponsor, EFI. Registration is recommended, and can be done
at this page
. I am also speaking about the future of the dealer channel at a
special multi-day event
starting on Sunday. My presentation is at 2pm on Sunday, at booth 4461. Attendance is open to attendees.