Economics & Research Blog
January US Commercial Printing Shipments Down -2.4% Compared to 2011
January US Commercial Printing Shipments Down -
By Dr. Joe Webb
Published: March 6, 2012
January US Commercial Printing Shipments Down -2.4% Compared to 2011 The year started with a mild thud in January, with current dollar printing shipments at $6.4 billion, down -$160 million, or -2.4% compared to the prior year. In inflation-adjusted terms, shipments were down -$352 million (-5.2%). December 2011 shipments were revised down by $53 million to $6.931 billion. The chart below shows the January data and the statistical forecast for the rest of the year (click to enlarge).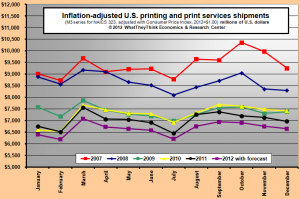 The data for January, monthly forecasts for 2012, and annual forecasts to 2018, can be viewed and
downloaded as a spreadsheet workbook
. The decline in shipments were not a surprise, considering the odd employment data the Bureau of Labor Statistics published last month. In the report of January employment, the BLS made major revisions to its US population adjustment, affecting their estimates of employment by industry. In addition, the seasonal adjustments that the BLS applies to its data resulted in some strange results. The BLS report reported that printing employment rose by +1,700, which was picked up by some general business publications. When you looked at the actual data that was not seasonally adjusted, it was down -3,500. We won't know for quite a while what the real printing employment was until the BLS updates and revises its data series, but the decline in shipments makes more sense with the unadjusted -3,500 employee decline.