Economics & Research Blog
September 2011 US Commercial Printing Shipments Steady with 2010
September 2011 US commercial printing shipments were $
By Dr. Joe Webb
Published: November 3, 2011
September 2011 US commercial printing shipments were $7.426 billion, an increase of $22 billion (+0.3%) on a current dollar basis compared to September 2010. On an inflation-adjusted basis, shipments for September 2011 were down -$266 million (-3.5%) compared to the prior year. The first three quarters of 2011 were up +$130 million (+0.2%) compared to 2010, but down -$1.8 billion (-2.8%) after inflation adjustment. The chart below (click to enlarge) shows shipments since 2006 on a monthly inflation-adjusted basis (click to enlarge).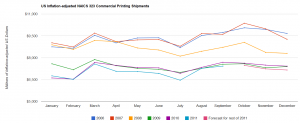 Our forecast models indicate that 2011 will be just under $85 billion, about a -$2.5 billion decrease in inflation-adjusted terms compared to 2010. Our long range forecasts are unchanged. Complete data since 2003, and our forecasts to 2017,  may be found at
this special site
, where data may also be downloaded.  The spreadsheet also includes Canada data and forecasts.