Economics & Research Blog
August Commercial Printing Shipments Provide Some Relief: +$210 Million in Current Dollars.
August 2011 US commercial printing shipments were $
By Dr. Joe Webb
Published: October 6, 2011
August 2011 US commercial printing shipments were $7.2 billion, up +$210
billion
million compared to August 2010. This was a +3% increase in current dollars. The prior four months, April through July, were down significantly, so this was welcome news. For the first eight months of 2011, current dollar shipments were up $118 million. On an inflation-adjusted basis, shipments were down -$57
billion
million (-0.8%). For the first eight months of 2011, inflation-adjusted shipments were down nearly -$1.6 billion. The chart below shows the comparisons with recent years on a current dollar and inflation-adjusted basis (click to enlarge).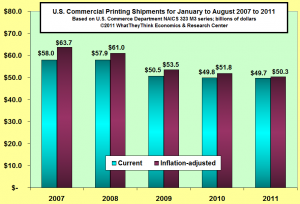 Trends and forecasts for the US and Canada can be found at our
online spreadsheet
, which can be downloaded for internal use. The general economic news still has a sideways bounce-along-the-bottom pattern. The October 7 national unemployment report has been the main focus of expectations for the past two weeks. The Bureau of Labor Statistics also publishes state employment data, down to the industry level.  For the printing industry, here are the comparisons to a year ago for the biggest printing states (click to enlarge):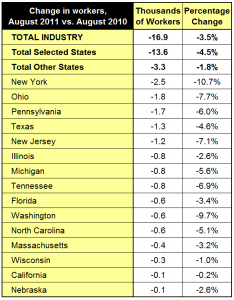 Of the approximately 469,000 commercial printing employees, the 15 states in the chart represent 269,000 of them, or about 62%. * * * * I have received many questions about how to order our new book, "Getting Business." It can be ordered from our
special page at Lulu.com
. There you will also find a new book of selected columns from this year and last that received the most reader feedback. The book is called "Changing Our Mindset... and Other Disruptive Writings." The columns have all been revised and updated since their original appearance. If you do order from Lulu, these promo codes may still work: FALLBOOKS (20% off) and TANGO (15% off, but this expires on 10/7). Thanks to all for their support of these projects.