Economics & Research Blog
US Commercial Printing Profits Rise for Seven Quarters, and Other Comments
US commercial printing industry inflation-
By Dr. Joe Webb
Published: September 18, 2011
US commercial printing industry inflation-adjusted profits have risen for seven consecutive quarters, to $3.6 billion. This is the total profits for the period Q3-2010 to Q2-2011. The prior four-quarter period was $3.55 billion. The data and charts are in a
Google spreadsheet
that can be viewed or downloaded. Here is a different chart of the data (click to enlarge)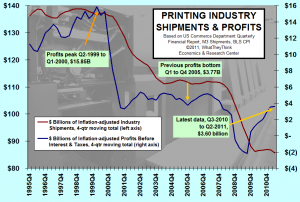 In reviewing the data, subject always to revision by the Commerce Department, it appears that profit rates are increasing slightly faster than the rate that print volumes are decreasing, and profit rates are increasing at a slightly faster rate than print prices are increasing. We know that prices are not keeping up with inflation, but it appears that the exit of weak print businesses, and stern cost controls and cost reductions are improving the lot of the surviving printers. There are still challenges ahead, as all of us are well aware. That said, we must keep the following in mind:
We are still lower than the previous profit levels of 2005, when the industry showed $3.77 billion of profits;
We are much lower than the profits of the late 1990s, when in the Q2-1999 to Q1-2000 period, the industry recorded $15.85 billion in profits.
The report of Q3 profits will be released in December. * * * The business press, and all of us, for that matter, lose sight of how big Washington's budget is. The newly proposed jobs stimulus of the President is about $400 billion. That's more than the profits of 100 printing industries at current rates. But we're just one industry, and those $3.6 billion in profits were through the efforts of 470,000 people working in about 27,000 establishments. The numbers get thrown around in the economic debate, and no one really seems to acknowledge that the sweat and risk of real people is involved. * * * Frank Romano explained the difference in my age and his at a Xerox event: "Dr. Joe is adjusted for inflation." * * * THE ANNUAL BREAKFAST EVENT The slides and audio of the breakfast event sponsored by manroland (nine years running!) can be
found online
, for free. There is a .zip file with everything, or files can be downloaded individually. There is a .pdf of the slides, and two .mp3 files, one with the main presentation, and the other with Q&A only. That file is provided as a convenience for those who had to head to the show floor and their booth assignments. Thanks again to all those who attended, and to manroland and the company's CEO, Vince Lapinski, and the staff, notably Denise Lease. I always comment that manroland is a brave company for letting me speak. At no time do they ever ask what my topics or comments will be or attempt to sway my opinion in one way or another. They're interested in ideas and the realities of the marketplace just as much as their customers are, if not more so. Heartfelt thanks to all who support this event. # # #