Economics & Research Blog
Economy Gets Pause that Isn't Refreshing
As discussed in the April webinar and in recent columns and blogposts,
By Dr. Joe Webb
Published: June 3, 2011
As discussed in the April webinar and in recent columns and blogposts, the economy was getting weak, and the latest data confirm that. Every one of our recovery trackers are above or equal to their levels at the recession on a current dollar basis. Those levels, however, are in some jeopardy because of a slowing economy, and inflation. If inflation-adjusted data are used, the NASDAQ is about 100 points below its inflation-adjusted level of December 2007, and proprietors income, our measure of small business activity, is down about -3.9% from those levels.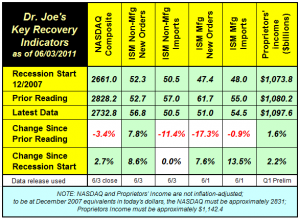 The outlook for June is not good, based on the unemployment report of Friday, June 3. The unemployment rate edged up to 9.1%, the labor participation rate remained at a 25+ year low of 64.2%. Compared to May of 2010, 2.3 million people have left the labor force, which is actually making the unemployment rate seem better than it is. The household survey showed an increase of +105,000 jobs. The household survey includes self-employment, and is the survey used to calculate the unemployment rate. The broadest measure of unemployment that includes discouraged workers and part-time workers unable to find full-time work, fell slightly to 15.8%. Productivity data for total business output was +3.2%, which still exceeds GDP growth (+1.8%), implying that no improvement to employment should be expected soon. The increased productivity is being used by businesses to pay for increased raw materials costs, additional costs of current and upcoming regulations, and investments in computing and communications. Printing shipments for April were very disappointing, down -4.5% on an inflation-adjusted basis, compared to April 2010. They were down on a current dollar basis as well, breaking a 12-month streak of favorable comparisons to prior year. This was the worst inflation-adjusted April in our data series which starts in 1993. There is good reason to believe it was the worst April in decades on that basis, but we do not have monthly shipments data that would allow us to say that with great precision. We will issue a newly updated monthly shipments report with more details very soon, and some perspective about how unfortunately historic this April may have been.
In a recent column
, we explained that we considered 2011 to be a critical transition year, but we thought the definitive signs of that would not be showing up this soon. Remember that breathing room that would give us time to think and plan this summer? The time to act may be here a lot sooner than we originally expected.