Economics & Research Blog
Media Shift Evident in Employment Data
Last week I discussed how the change in industry employees had driven the measure of sales per employee higher.
By Dr. Joe Webb
Published: February 16, 2011
Last week I discussed how the change in industry employees had
driven the measure of sales per employee higher
. This week, the employment data since the start of the recession indicates that content creation employment seems to have bottomed, but print employment has not. This reminds us of two things: media markets are changing, and the pressures on print businesses for restructuring are still intense. This chart puts the employment in ad agencies, graphic design, public relations, and commercial printers on a base of December 2007, which is the official start date of the recession. The lines show us how employment has changed as a percentage. That is, if it goes from 100 to 80, employment in that sector has declined by 20%. If it goes from 100 to 120, employment in that sector has increased by 20%. It does not indicate the number of employees. (click chart to enlarge)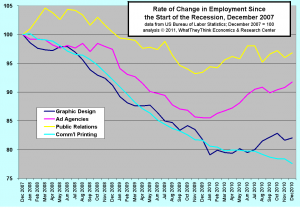 Note that public relations employment actually increased after the recession start; this was the time when more companies were starting to allocate budgets to social media and other formats. PR employment was more resilient in the downturn than advertising or design employment.
Graphic design employment bottomed out a year ago, January 2010, losing -15,700 jobs (-20.9%) at that point. It has since regained +2,200 jobs, an increase of +3.7% off that bottom.
Ad agencies decreased by -27,200 (-14.5%) by the time that sector bottomed in January 2010. Since that time it has added back +11,700 jobs (+7.1% off bottom).
Public relations employment bottomed the earliest of all of the sectors, in November 2009, when it had -3,400 fewer jobs (-6.8%). Since then, it has added back 1,800 jobs (+2.5%).
Commercial printing employment has not bottomed yet, and may not for a while, as companies continue to deal with price and cost pressures in an industry-wide restructuring. Since December 2007, the number of jobs has decreased by -137,600 (-22.4%).
The table below summarizes some of these data (click to enlarge):

None of these sectors are back to the levels of December 2007. Since January 2010, however, the combination of design, agencies, and PR firms have increased employment by 15,700 between them. The employment data continue to show that content creation is the expanding part of the media business, and creating that content is becoming more efficient from a production perspective. Managing these media is challenging. That problem is a likely opportunity for many print businesses seeking to diversify into growing sectors. ----
PS After I posted this, some of my publishing industry acquaintances were wondering how their businesses were doing in terms of employment:
Newspaper publishing employment still seems to be dropping, and lost -92,300 jobs (-27%) since December 2007;
Magazine publishing employment is down by -27,500 jobs (-19.3%), and still seems to be falling;
Book publishing employment bottomed out in January 2010, losing -7,100 workers by that time (-8.9%), but has since added back +1,100 jobs, which is +1.5% off the low.